[Part I] [Part II] [Part III] [Part IV] [Part V] … [Part X] … [Part XV]
Until last week my house had a conservatory. It was a half-brick construction, and was one of the main selling points when I bought the house. Unfortunately it was south-facing, and became unbearably hot in the summer. Wooden furniture left in there would become warped and split. Plastics became brittle. To make matters worse, it had long since stopped being watertight, so leaked in the winter. After spending quite a lot of money at trying to address both these problems, I finally decided that it was time to stop throwing good money after bad, and to start again with something more useful. The conservatory would go, to be replaced with a more versatile, and less oven-like, extension.
The first step was to spend a day clearing the patio outside the conservatory of the various pots and plants that had accumulated there. Followed by a second day clearing out the conservatory itself, attempting to squeeze the furniture into the rest of the house, while still leaving it practical to live in. It was a job that took a whole weekend, plus a good portion of a day off work, but finally everything was clear enough for work to begin (click on the photos for a larger size).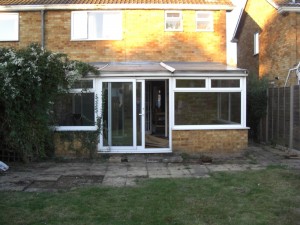 As you can see on the left of the image, in addition to the conservatory the builders would also need to remove a well-entrenched and woody clematis which had grown into a biological cage over a water butt, and formed a wonderful scaffold for a less-than-wonderful infestation of Russian vine.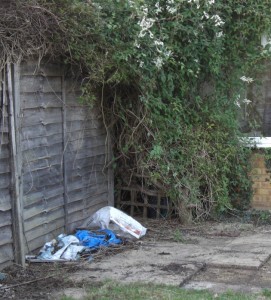 The paving slabs that are missing from those photos are because I removed quite a few strawberry plants that had self-seeded in the gaps between them in previous years. Having seen them hanging onto life in such a minute crevass – and yet still successfully produce a small crop of fruit – I didn't have the heart to let them go the way of the digger. They've now been transplanted into more roomy accommodation.
On the first day of building, the old conservatory came down quite quickly…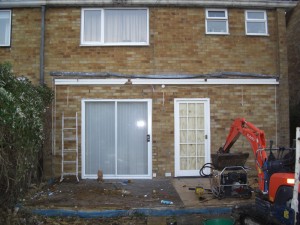 …but it took a couple of days to deal with the overgrowth (this photo only shows a small amount – there was much more in the skip at the front of the house):
With the site cleared, it was time to start digging the foundations…