Crash! (Italian)
on
May 11, 2011
at
4:31 pm
This is an Italian translation of our Season 2 comic, "Crash!", and the commentary that accompanies it, courtesy of spaventapasseri from inkscapeforum.it. Click on the image for the full-sized version: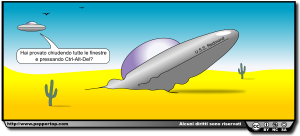 Confrontato con i nostri fumetti più recenti, questo potrebbe sembrare semplice e lo scherzo potrebbe sembrare vecchio stile. Ma se ascoltate attentamente potreste sentire lo strampellamento classico di un'arpa per segnalare che stiamo per entrare in una scena retrospettiva…
L'anno è il 1996. Il sistema operativo di Windows 95 è uscito da pochi mesi e, sebbene venga visto come un miglioramento rispetto al Windows 3.1, alcune persone trovano che si blocca e s'impalla. Tornando ai nostri fumetti, incontriamo il primo fumetto che abbiamo disegnato (peccato che abbiamo perso la forma digitale e abbiamo solo la forma stampabile).
(Si, questo è l'inizio di The Greys. Un bonus per chi capisce lo scherzo – potrebbe aiutarvi se immaginate di guardare un fantascienza dei metà anni novanta)
Così abbiamo preso alcuni elementi da quel primo fumetto, lavorato un po' e ottimizzato loro un poco (non siate sorpresi è così che creiamo la maggior parte dei nostri fumetti), e prodotto "Crash" per onorare i crescenti dispiaceri di Windows.
Ora che il suono dell'arpa e la traballante dissolvenza ci portano indietro al 21° secolo, potreste chiedervi perchè ci è voluto tanto tempo per questo fumetto andare online. Nella realtà è finito in un gruppo di vecchi fumetti che sono stati utilizzati per il nuovo sito due anni fa, ed era originariamente inteso ad essere il secondo fumetto che abbiamo inviato. All'epoca ci venne una brillante idea per inviarlo con un Uovo di Pasqua ma sfortunatamente scoprimmo che la tecnologia web era ancora un po' immatura per quello che avevamo in mente. Due anni dopo le cose erano progredite molto e finalmente, un paio di settimane fa, il lancio di Firefox 4 porto' alla tecnologia di cui abbiamo bisogno per le masse. Infine l'Uovo di Pasqua sarebbe visibile a più di una manciata di utilizzatori del browser Opera. Non funzionerà ancora con Internet Explorer, nè con IE9. Forse tra un paio di anni…
Cliccate qui per scaricare il sorgente SVG per questo fumetto