Parcheggio in Parallelo
on
April 8, 2011
at
8:03 am
This is an Italian translation of our Season 1 comic, "Parallel Parking", and the commentary that accompanies it, courtesy of Marina from inkscapeforum.it (who has also kindly provided a translation of our "About the Greys" page, which can be found here). Click on the image for the full-sized version: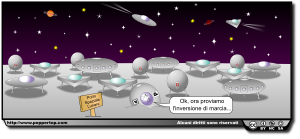 Un cambio di piano dell'ultimo minuto (o piuttosto, un cambiamento di fumetto) questa settimana – che non è di buon augurio visto che è solo il secondo fumetto che pubblichiamo.
C'era un altro fumetto nella lista per questa settimana: uno con un Easter Egg animato. Questo fumetto è stato creato poche settimane fa, e l'animazione era stata provata con una versione di Opera che quella volta avevo nel mio computer. Da quella volta, tuttavia, ho aggiornato il mio sistema operativo (a Ubuntu 9.04) e installato una nuova versione di Opera… e ora l'animazione non funziona.
Il fumetto in progetto apparirà prima o poi, ne sono sicuro – devo solo capire se è un problema di Opera , un problema SVG, o qualche altro tipo di problema… oppure solo arrendermi e postarlo senza Easter Egg.
Nel frattempo, godetevi questa offerta alternativa. Dedichiamo questo fumetto a tutti quelli che stanno imparando a guidare in questo momento. Fortunatamente per noi, abbiamo superato i nostri esami di guida prima dell'introduzione del parcheggio in parallelo nella pratica, così non abbiamo mai dovuto affrontare la scocciatura incontrata dal protagonista di questa striscia.
Cliccate qui per scaricare il sorgente SVG per questo fumetto