Yeti Scarponi
on
March 22, 2011
at
6:23 pm
This is an Italian translation of the first comic from Season 1, "Yeti Boots", together with a translation of the commentary that accompanied it. These translations were kindly provided by Marina from inkscapeforum.it. Click on the image for the full sized version: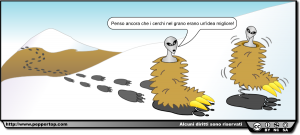 Benvenuti a I Grigi. Questo è il primo fumetto che pubblichiamo – sebbene non sia il primo che abbiamo disegnato. Risale alla fase d'inizio de I Grigi nel 1994, di cui puoi leggere nella pagina "Informazioni sui I Grigi"
Se siete capitati qui per caso ed è la prima visita al nostro piccolo sito, dovreste sapere che vi diamo molte più possibilità di riusare e cambiare il nostro lavoro di quante potreste averne con altri fumetti che trovate nel web – proprio qui sotto vi forniamo il file sorgente SVG. Potete leggere quello che potete fare nella pagina "Uso e Modifiche dei Nostri Fumetti".
Come molti fumetti, questo comprende una sorpresa o Easter Egg – sebbene sia una abbastanza piccola che non sarà troppo difficile da trovare (ebbene, vogliamo cominciare con voi delicatamente).
Cliccate qui per scaricare il sorgente SVG per questo fumetto