Centenary Correspondence
on
October 25, 2012
at
12:00 am
Yes, incredible as it may seem, this is our 100th Greys comic! I'm not sure how well this joke will travel, so a little explanation is in order: here in the UK it's traditional to receive a letter from the Queen on your hundredth birthday. In our Greys world it's traditional to receive one on your hundredth comic strip… but from a very different Queen!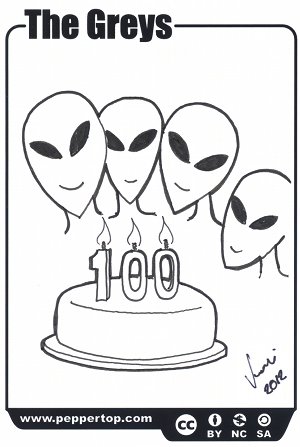 When we first put pen to paper (or mouse to mouse mat) way back in 1994, we would never have guessed that we would quit, restart, quit again, and then finally launch the series as a webcomic some fifteen years later. Since then we've posted a new strip every fortnight, plus some bonus ones in-between, which is quite surprising given how much the complexity of the strips (and Easter Eggs) has increased in that time. Our first strip was a single simple panel, and the Easter Egg was simply a hidden piece of text. Now most of our comics extend to several panels, and it's common for the Easter Egg to consist of several extra scenes that can sometimes be just as elaborate as the main strip.
We wouldn't have reached 100 comics without the support of our friends, family, and all the people who have followed our work on Facebook, Twitter or one of the many other sites that we post to. Our thanks go out to each and every one of you.
But there is one group of people that I would especially like to thank: our translators. They spend their own time and effort translating our comics so that they can be more widely enjoyed, and I can't overstate how much we appreciate that.
So what of the future? We're already working on comic #101 which is packed full of props and characters from the past 100 strips, plus a few new ones – and we have no plans to stop there. If you've enjoyed our first hundred comics, we hope you'll like the next hundred even more.
I would like to end this celebratory note with a small request for support: it really helps us if you 'like' our comics on Facebook, retweet them on Twitter, pass them on to friends and relatives, or print them out to post on the noticeboard at work or school. We would love to build our readership, but it's very hard to spread the word on our own. We're also always happy to hear from our readers, so don't be afraid to comment, tweet or email us.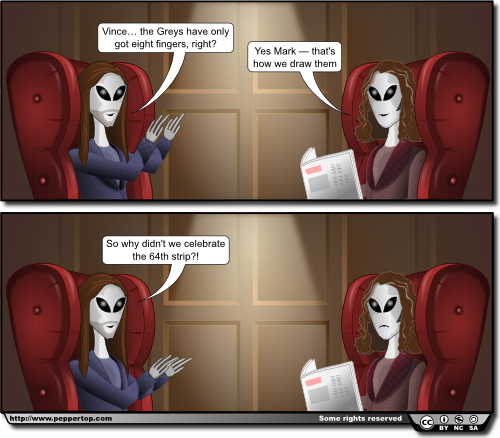 Cette bande dessinée est aussi disponible en français
This comic is also available in French
Komik ini juga tersedia dalam Bahasa Indonesia
This comic is also available in Indonesian
Questo fumetto è disponibile anche in italiano
This comic is also available in Italian
Этот комикс также доступен и на русском языке
This comic is also available in Russian