Griffondor contre Serpentard
on
June 20, 2014
at
8:08 am
This is a French translation of our Season 2 comic "Gryffindor vs. Sitheryn" and its accompanying commentary, by Samuel. Click on the image for the full-sized version: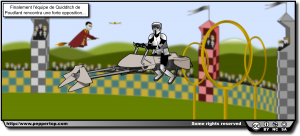 Toute technologie suffisamment avancée est indicernable de la magie
(Arthur C. Clarke)
On fait souvent remarquer que la science-fiction et la fantasy sont essentiellement la même chose. Les blasters et les torpilles à photons sont remplacés par des baguettes et des sorts, les vaisseaux par des dragons1, et les transporteurs par des cheminées pleines de suie et encore d'autres sorts. Star Wars brouille les cartes plus que tout autre avec la Force qui se rapproche plus de la fantasy que de la science-fiction, (malgré les tentative de George Lucas pour la « scientifier » avec l'introduction calamiteuse des midichloriens dans la Menace fantôme).
Harry Potter, jusqu'à un certain point, est Luke Skywalker, arraché à une existence banale pour découvrir qu'il est appelé à vivre une grande destinée. Et nous ne sommes pas les premier à l'avoir remarqué. Bien sûr c'est parce-que tous les deux ressortissent d'un type d'histoires qui imprègne toute la littérature occidentale : des similitudes2 peuvent être décelées dans presque toutes les tentatives d'écrire une épopée, en remontant au roi Arthur3, à Beowulf et même à la Bible.
Nous avons grandi en rêvant de voler rapidement entre (et contre) les troncs de la forêt d'Endor sur un Speeder. Beaucoup de plus jeunes rêvent de descentes en piqué sur un terrain de Quidditch en chevauchant un manche de balai. Nous nous sommes simplement demandés ce qui se passerait si nos rêves rencontraient les leurs.
---
NdT
1) Ann McCaffrey a d'ailleurs mélangé les deux sans complexes dans sa série le Vol du dragon.
2) Vladimir Propp a étudié ces similitudes dans Morphologie du conte.
3) Une légende dont Star Wars s'inspire beaucoup, avec entre autre les combats à l'épée et les amours quasi incestueuses de Luke et Léia Organa qui rappellent celles d'Arthur et Morgane.
Cliquez ici pour télécharger le fichier SVG pour cette bande dessinée