Unusual Suspects (French)
on
September 20, 2013
at
7:39 am
This is a French translation of our Season 2 comic "The Unusual Suspects" and its accompanying commentary, by Samuel. Click on the image for the full-sized version: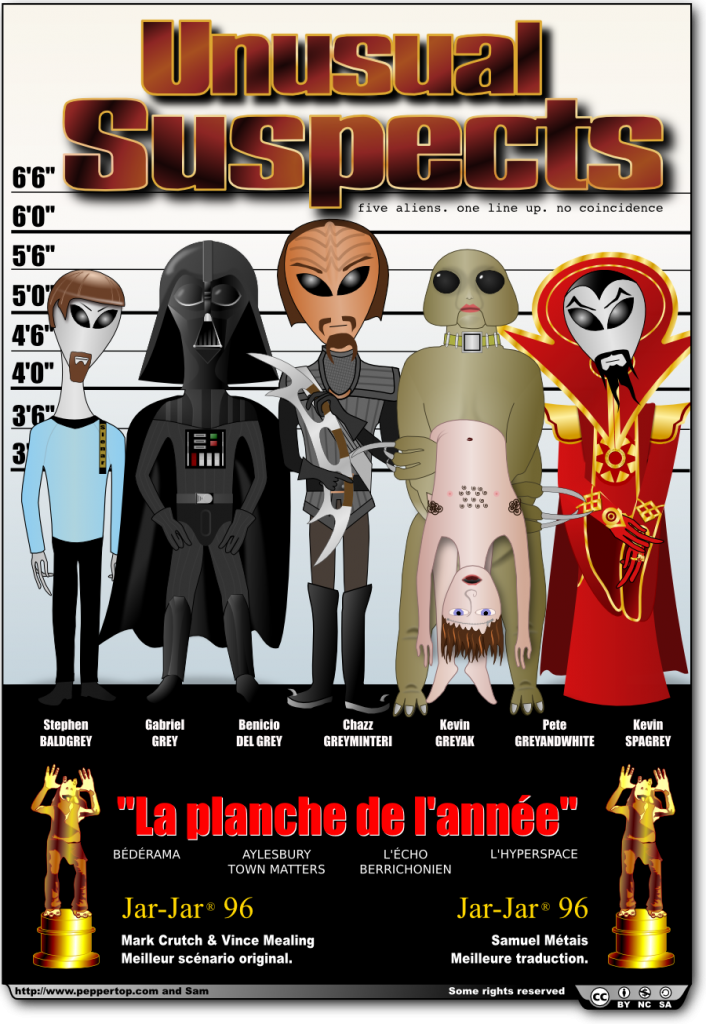 Voici le deuxième volet de notre trilogie consacrée aux affiches de films. Comme la précédente, celle-ci trouve son origine dans la première incarnation des Gris, il y a maintenant quinze ans. À l'époque la planche était presque d'actualité puisque le film est sorti en 1995 avec cette affiche :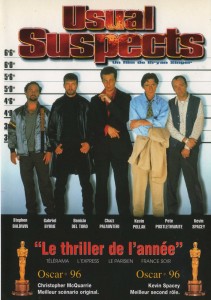 À cette époque nos images étaient beaucoup plus simples, il n'y avait pas d'œufs de Pâques et les gags étaient un peu plus basiques. Si basiques en fait que dans la planche originale tout l'humour reposait sur un alignement de Gris qui s'avéraient un peu courts une fois placés sous la toise. Voici à quoi cela ressemblait sur le carnet de croquis de Vincent :


Et voici de quoi la planche avait l'air lorsque nous avons fini de travailler sur la première période des gris :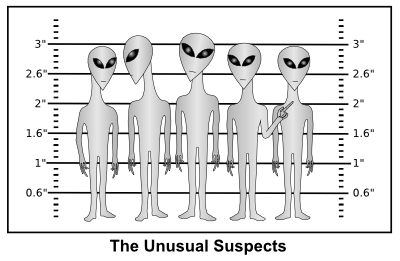 Quand nous avons commencé le travail destiné à ressusciter les gris sous forme de B.D. en ligne, en 2008, cet épisode était en bonne place sur notre liste des planches à adapter au nouveau média. Nous sommes revenus au matériel de base pour créer une parodie plus pertinente, et ce faisant nous avons décidé d'utiliser quelques méchants célèbres de la science-fiction pour refléter les tenues et les postures des personnage d'origine. Il nous est vite apparu que les personnages en question étaient d'avantage connus pour leur grandes tailles que pour leurs lacunes en la matière. Alors le gag pas si drôle au sujet de nos Gris de trois pieds a été abandonné au profit de cinq personnages plus grands, et d'une parodie plus fidèle à laquelle nous avons travaillé par à-coup durant quelques temps. Ce n'est que maintenant, presque dix-mois plus tard, que nous la considérons comme digne d'être mise en ligne.
Cliquez ici pour télécharger le fichier SVG pour cette bande dessinée