Journal de l'officier de quart
on
July 11, 2013
at
8:05 am
This is a French translation of our Season 2 comic "Duty Officer's Log" and its accompanying commentary, by Samuel. Click on the image for the full-sized version: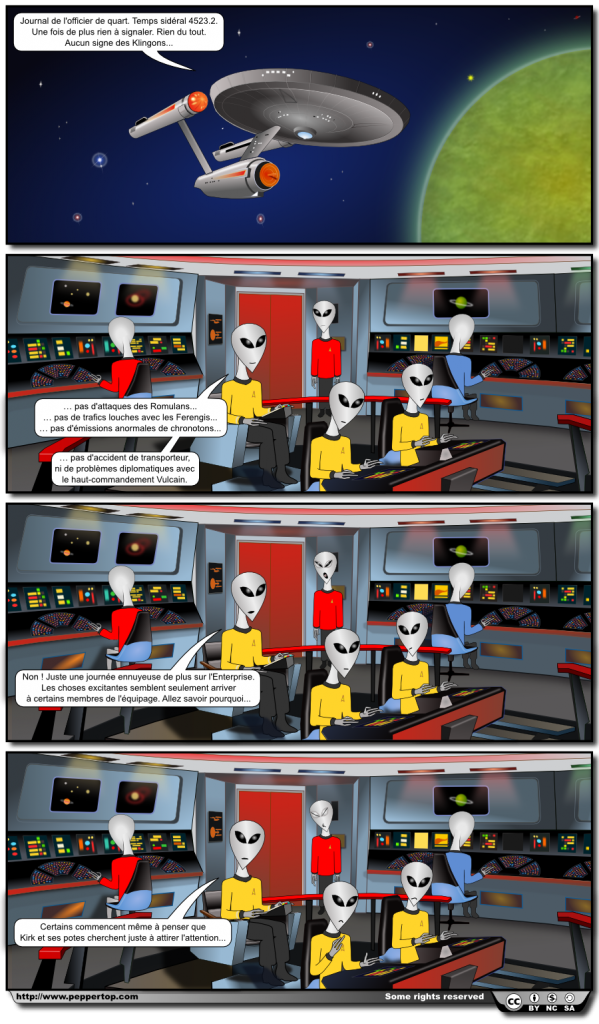 Bienvenue pour la deuxième saison des Gris avec sa nouvelle bannière et sa page Facebook ! Si vous êtes utilisateurs de Facebook, vous pouvez cliquer sur « j'aime » pour être avertis chaque fois que nous publions une nouvelle B.D. Nous avons également mis toutes les planche de la première saison dans un album photos Facebook.
Nous avons prévu de promouvoir notre B.D. Plus intensivement cette année, étant donnée que les nouveaux auront déjà toute une saison à se mettre sous la dent. Notre page Facebook fait partie de ce projet, tout comme la page Deviant Art que j'ai ouverte. Nous aimerions que vous nous aidiez en partageant nos B.D. avec vos amis et votre famille : chaque planche dispose d'une icône pour permettre le partage (juste entre le lien de téléchargement du fichier SVG et la transcription des bulles) et pour nous mettre en lien aussi facilement qu'il est possible.
---
Cette planche particulière est inspirée par la jalousie. Plus ou moins… Quand je me suis aperçu que j'avais besoin d'un décors inspiré du Liberator de Blake 7, j'ai entrepris de le faire de mon mieux, compte-tenu de mes talents artistiques limités. Aussi imparfait soit-il, il était beaucoup plus complexe que bien des décors que nous avions réalisés jusqu'alors. Vince, le plus artiste de notre duo, était un peu jaloux de ma création, alors il s'est mis à dessiner quelque-chose qui ridiculiserait mon Liberator. Le pont de l'Enterprise tel qu'il apparaît dans cette planche en est le résultat.
Comme c'est souvent le cas avec nos B.D. il a fallu une longue période de travail, de re-travail et de re-re-travail avant que nous ne disposions d'une histoire complète convenant à cet arrière-plan. Sans parler du « Mince ! Il faut encore dessiner un œuf de Pâques ! », une pensée qui nous frappe souvent au moment précis où nous commençons à être lassé et fatigué de la planche sur laquelle nous travaillons. Alors bien que notre pont de l'Enterprise soit terminé depuis environs six mois ce n'est qu'il y a quelques semaines que nous avons décidé que cette B.D. Était prête pour être exhibée à la face du monde.
En espérant qu'elle vous plaise…
Cliquez ici pour télécharger le fichier SVG pour cette bande dessinée