Authentication (French)
on
July 3, 2013
at
8:03 am
This is a French translation of our Season 5 comic "Authentication" and its accompanying commentary, by Samuel. Click on the image for the full-sized version: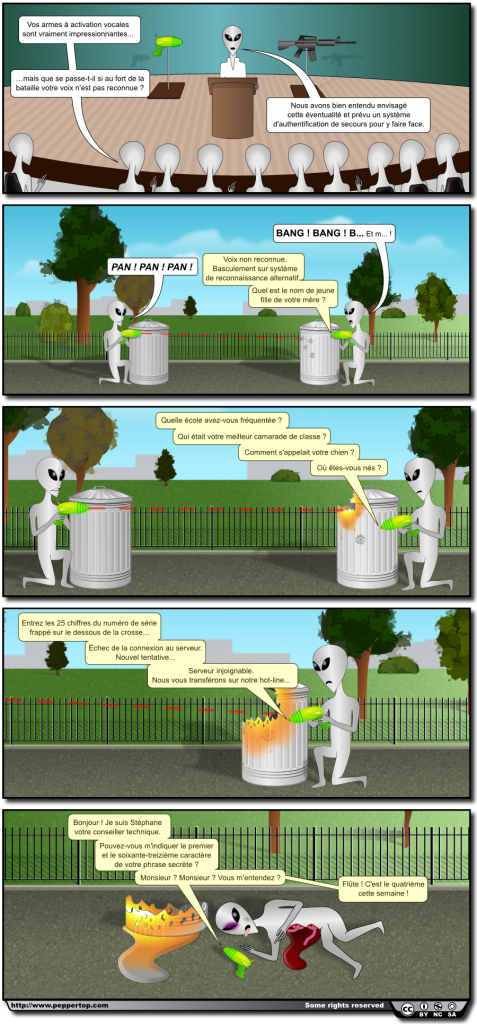 Voici la suite de notre planche précédente : Planche Ridiculisant Ouvertement les Unions Textuelles.
L'un des problèmes que pose toute forme de système d'authentification c'est qu'il échouera inévitablement à un moment ou à un autre. Il peut produire une fausse réponse positive, confondant un imposteur avec l'utilisateur autorisé. Ou il peut produire une fausse réponse négative, refusant l'accès à un utilisateur régulier. Beaucoup de systèmes d'identification biométrique qui ont parfaitement fonctionné en laboratoire pour un nombre limité de testeurs ont manqué leur entrée dans le monde réel là où les échelles quantitatives sont plus élevées : 1 % de taux d'erreur est peut-être acceptable en laboratoire testant une centaine de sujets, mais cela ne l'est plus dans le cas d'un aéroport qui voit transiter chaque année des centaines de milliers de voyageurs.
Une forme d'erreur encore plus commune sur la toile est l'erreur humaine. Nous sommes sensés garder en mémoire un large éventail de noms d'utilisateur et de mots de passe, chacun avec ses propres restrictions de longueur et de jeu de caractère, tout en étant incités à ne pas les utiliser pour accéder à plusieurs site (ce qui est effectivement un bon conseil). Pas étonnant que certains les oublient et doivent ensuite se colleter avec ces stupides questions secrètes que notre BD tourne en ridicule.
Mon conseil serait d'utiliser un gestionnaire de mots de passe comme LastPass ou KeePass ou même de les stocker simplement dans un fichier crypté avec GNU Privacy Guard ou un programme similaire. Ainsi vous pouvez utiliser des mots de passe uniques et robustes tout en n'ayant à vous rappeler que d'un seul mot de passe « maître ». Prenez simplement garde à ne pas mégoter sur la complexité de ce dernier, car cela reviendrait à sécuriser Fort Knox à l'aide d'un petit cadenas.
L'autre source d'inspiration de cette planche est Windows. Je suis souvent amené à réparer des ordinateurs, à changer des pièces et à ré-installer Windows. Ce qui signifie également que je dois fréquemment me frotter aux clefs-produit ridiculement longues de Microsoft, généralement imprimées en caractères difficilement lisibles sur une étiquette collée la tête en bas à l'arrière d'un PC encastré sous un bureau. Tout cela pour prouver que la version authentique de Windows que je suis en train d'utiliser est… et bien… authentique !
Pour moi rien ne vaut Linux : au moins je peux le copier et le distribuer en toute impunité !
Cliquez ici pour télécharger le fichier SVG pour cette bande dessinée