Hobble on the Cobbles (French)
on
May 17, 2013
at
8:32 am
This is a French translation of our Season 3 comic "Hobble on the Cobbles" and its accompanying commentary, by Samuel. Click on the image for the full-sized version:
Note that this strip was originally created for our local Town Council's magazine, so the joke may not travel well (although John Otway has played a number of concerts in France over the years).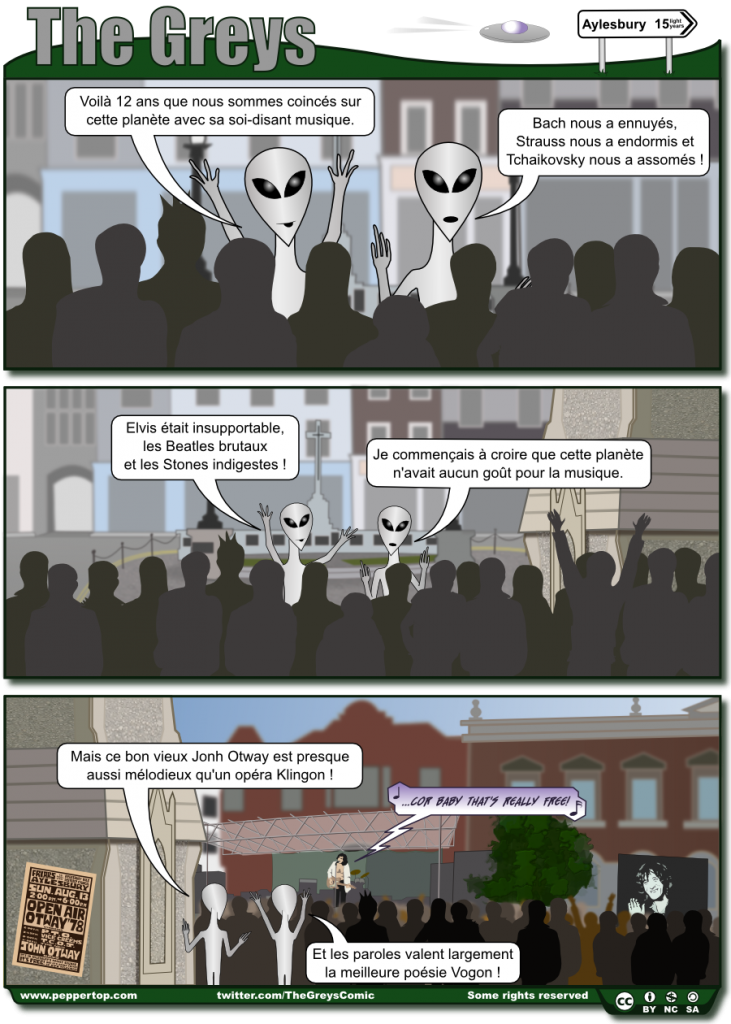 Voici une autre des planches que nous avons produites pour le Aylesbury Town Matters, le bulletin municipal trimestriel de notre ville.
Cette B.D. Revient sur un épisode marquant de l'Histoire d'Aylesbury : le concert de John Otway à Market Square pour son retour au pays en 1978 (l'origine du festival Hobble on the Cobbles1). Otway avait reçu de ses producteurs une avance de 250 000 livres et sa prestation était filmée par la télévision nationale. C'était alors la vogue du punk et John Otway semblait promis à un bel avenir. Face à un public euphorique, Il entonna son hymne punk Cor Baby That's Really Free (qui figurait au top 30) ainsi que sa face B, Beware of the Flowers Cos I'm Sure They're Going To Get You, Yeah. Son jeu de scène unique, bouffon et acrobatique2, fascina tout un chacun et il quitta la scène auréolé du statut de star accomplie.
Pour faire suite à son tube emblématique, il décida que le public punk apprécierait peut-être quelque-chose d'un peu différent : il enregistra une ballade avec un orchestre de cent instruments.
Il lui faudra 25 ans avant d'apparaître à nouveau dans les classements.
Otway est une légende. Malgré ces années passées dans les limbes de l'industrie musicale, grâce à ses concerts hilarants il s'est construit une audience de fidèles (dont nous sommes). Au cours de cette période il a testé toutes sortes de plans, de combines et d'arnaques pour tenter de renouer avec la célébrité. La plupart ont échoué lamentablement, et souvent de manière coûteuse. Mais elles ont fourni de la matière pour deux autobiographies qui valent d'être lues si vous voulez apprendre, en pleurant de rire, comment ne pas devenir une rock star. Son dernier truc ? Un « rockumentaire » récapitulant les hauts et les bas de sa carrière devrait sortir l'année prochaine3. Et avec cet optimisme qui lui est typique Otway a même réservé une salle de cinéma de Leicester Square pour le soir de la première.
---
NdT
1) Que l'on pourrait traduire par « clopiner sur le pavé »
2) Pour se faire une idée de la chose : http://www.youtube.com/watch?v=pkgerQpwF3o. Je ne m'en lasse pas !
3) C'est apparemment chose faite : on en trouve des extraits sur You Tube.
Cliquez ici pour télécharger le fichier SVG pour cette bande dessinée