Confédération Générale des Trekkies
on
May 12, 2013
at
11:26 am
This is a French translation of our Season 5 comic "The Union of Federation Redshirts" and its accompanying commentary, by Samuel. Click on the image for the full-sized version: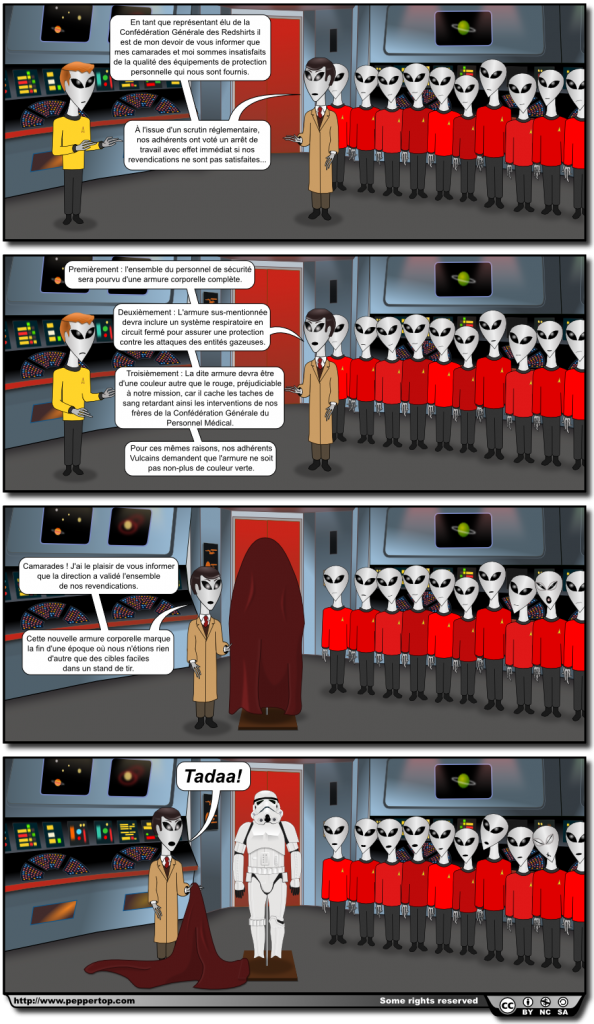 Cette planche marque le début de la cinquième saison des Gris en tant que webcomic. Très honnêtement, nous sommes surpris d'avoir pu traverser ces quatre années et encore plus surpris d'être parvenu à respecter notre planning d'origine : une publication tous les quinze jours (il y a beau temps que nous avons renoncé au rêve d'une planche hebdomadaire).
Ces quatre années ont donné lieu à une apparition des Gris dans le bulletin municipal de notre ville, ce qui a conduit à une publication dans un journal de notre autre B.D. Monsters, Inked qui est à son tour disponible dans un recueil imprimé. Nous avons vu le nombre de nos visiteurs passer d'une poignée à plusieurs milliers par mois, avec une augmentation en conséquence de nos frais d'hébergement (et malheureusement quelques cas de fermeture du site quand nous avons excédé notre bande-passante). Nous avons créé plus de 100 planches et trouvé de nouveau amis partout dans le monde qui ont eu la gentillesse d'en traduire certaines pour nous (Sam, notre traducteur Français, a été incroyablement généreux, au point de les traduire toutes1 !)
Alors ? Que nous réserve la saison 52 ? Encore beaucoup de tout cela, vraiment. Nous allons poursuivre nos efforts pour publier une nouvelle planche des Gris chaque quinzaine, et celles de Monsters, Inked chaque fois que nous en terminerons une. Nous allons continuer à parodier les vieux classiques de la S.F. et les séries cultes de la télé dont nous nous sommes moqués par le passé, mais nous allons essayer d'en introduire d'autres. Et la première moitié de la saison comprendra quelques parodies supplémentaires de Doctor Who, puisque nous célébrons le cinquantième anniversaire de cette institution de la science-fiction britannique.
En dépit de ces grandes idées nous avons choisi de commencer simplement cette saison avec un bon vieux gag sur Star Trek3, pour coïncider avec la sortie de Star Trek Into Darkness.
---
1) Please, stop it Mark : you'll make me blush 😉
2) Peut-être des traduction en Allemand ? Allez les voisins ! On se réveille 🙂
3)
http://youtu.be/M3cL1Aofy90
Cliquez ici pour télécharger le fichier SVG pour cette bande dessinée