Filmnesia, Part II (French)
on
February 9, 2013
at
4:40 pm
This is a French translation of our Season 4 comic "Filmnesia, Part II" and its accompanying commentary, by Samuel. Click on the image for the full-sized version: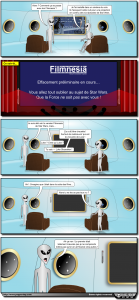 Note : ceci est la deuxième partie de notre série Filmnesia qui fait suite au premier épisode.
Star Wars, épisode I : la Menace fantôme est un des rares exemples de suite1 qui parvienne à ternir l'éclat de l'original. Ce n'est pas le pire exemple de ce phénomène, celui-là nous en parlerons dans la troisième partie, mais nous n'en sommes pas bien loin.
Le plus gros problème de la Menace fantôme, ce sont les midi-chloriens. Oui ! Encore pire que Jar-Jar Bink ! Pire que de trahir l'esprit d'aventure et d'action de la série originale avec une terne histoire de négociations commerciales ! Pire encore que de créer un méchant intéressant en la personne de Darth Maul pour le faire mourir avant la fin du film ! Pire que tout cela, car l'introduction des midi-chloriens a fait de Luke un Superman plutôt qu'un Batman.
En regardant l'épisode IV pour la première fois, de nombreux enfants ont eu le sentiment que Luke Skywalker, ça aurait pu être eux. La Force était présentée comme un mystérieux champ spirituel imprégnant l'univers. Chacun pouvait y puiser pour peu qu'il se soit préparé et ait suffisamment étudié, tout comme chacun pourrait être Batman à condition d'en faire l'effort. Certes, dans ce cas, un héritage de plusieurs millions aide indubitablement, mais l'âme de Batman n'est pas dans les gadgets : elle réside en l'homme vigilant qui combat le crime malgré son manque de super pouvoirs . Chacun pourrait devenir Batman tout comme chacun pourrait emprunter la voie de la Force.
Mais avec les midi-chloriens, la Force est devenue le domaine réservé d'une minorité privilégiée par la génétique : vous devez être nés au sein de la bonne lignée. Les Jedis (et les Sith) cessent d'être des ordres monastiques accessibles aux novices les plus dévoués pour devenir des « public schools2 » soumises aux lois du népotisme et ouvertes seulement aux enfants de ceux qui y ont réussi en leur temps. Personne ne peut devenir Superman : c'est le résultat d'un accident de naissance. Et maintenant, c'est la même chose pour les Jedis…
---
1) Suite, en terme de date de sortie, prologue dans l'ordre de la narration.
2) Sous ce terme trompeur se regroupent en fait les plus huppés des établissements privés Anglais. Nos voisins les appellent d'ailleurs « les moins publiques des écoles privées »
Cliquez ici pour télécharger le fichier SVG pour cette bande dessinée