Pendant ce temps à la Cité des nuages…
on
September 21, 2012
at
2:02 pm
This is a French translation of our Season 4 comic "Meanwhile In Cloud City…" and its accompanying commentary, by Samuel. Click on the image for the full-sized version: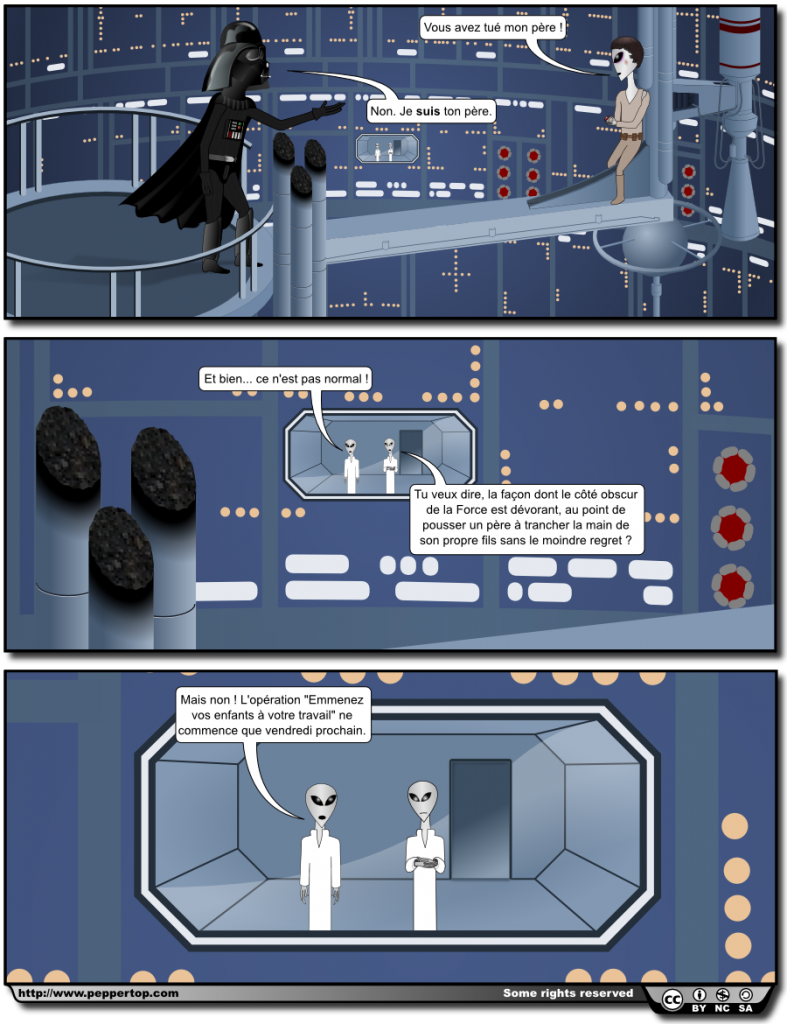 Si vous n'avez pas encore vu l'Empire contre attaque, nous sommes désolés d'avoir déflorer l'une des plus grandes révélations de Star Wars. Mais je considère que la plupart des gens qui lisent une bande-dessinée de science-fiction parodique ont probablement déjà vu « l'Empire ». De nombreuses fois.
Par ailleurs nous sommes loin d'être les premiers à avoir largué cette bombe.
Si par quelque caprice du destin vous n'avez jamais vu Star Wars1 alors je vous suggère d'effacer de votre esprit la planche que vous venez juste de lire et regardez les film dans « l'ordre de Machete » (si vous ne voulez pas lire tout l'article2, qui contient encore plus de révélations que celles que nous faisons ici, l'idée est de regarder les film dans cet ordre : IV, V, II, III, VI, en laissant entièrement de côté l'épisode I). Ensuite, revenez nous voir et jetez un œil à nos autres BD inspirées de Star Wars, maintenant que vous êtes capable de mieux les comprendre.
---
NdT
1) Une série radio de la BBC dont le principe consiste à confronter des célébrités à des situations qui leurs sont inhabituelles alors qu'elle sont le quotidien d'autres personnes.
2) Ou si vous ne pouvez pas, car il n'est pas traduit…
Cliquez ici pour télécharger le fichier SVG pour cette bande dessinée