Os Deus Retornaram
on
August 21, 2012
at
7:56 am
This is a Brazilian Portuguese translation of our Season 3 comic "The Gods Have Returned" and its commentary, by Leonardo Melo and ADFENO. Click on the image for the full-sized version (or visit ADFENO's Deviant Art page):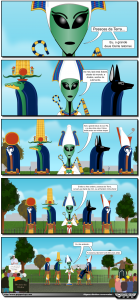 A noção de que os deuses antigos eram alienígenas foi popularizada pelos livros de Erich von Däniken na década de 70, e desde então se tornou base da ficção científica. Talvez a franquia Stargate seja um exemplo óbvio disso, pois iniciou com a premissa de que os deuses egípcios eram uma raça de alienígenas poderosos – sendo que a mesma foi alterada na série Stargate SG-1, convertendo os alienígenas em vermes parasitas chamados de Goa'uld.
Mais tarde a franquia Stargate transformou os deuses nórdicos em alienígenas, conhecidos como os Asgard – os personagens que assemelham-se aos nossos Greys.
O que nos leva a questionar a imagem acima: Se os Asgard se parecem com os Greys, mas os Goa'uld se colocam como deuses egípcios, será que esta tira implica que alguns dos Asgard foram controlados por vermes alienígenas parasitas antes de viajarem para o Recanto do Orador?