Terreur-formage
on
April 16, 2012
at
8:46 am
This is a French translation of our Season 1 comic "Terror-forming" and its accompanying commentary, by Samuel. Click on the image for the full-sized version: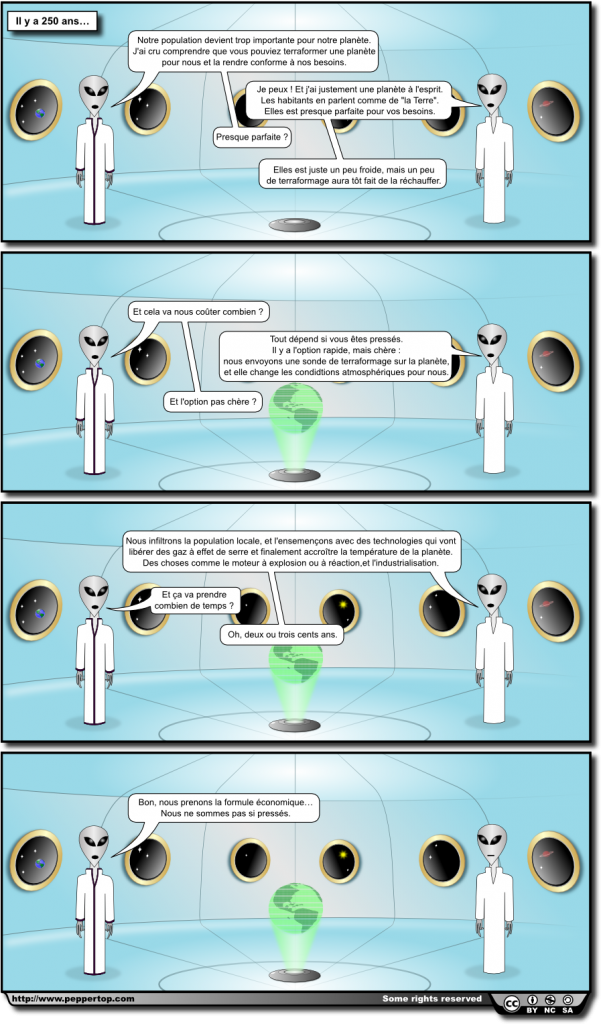 Comme beaucoup de nos BD, celle-ci est une satire. Cela peut sembler une évidence, mais avec les sujets teintés de politique on trouve toujours quelqu'un pour en lire trop dans les quelques mots que nous mettons sur l'écran. Alors clarifions les choses : nous ne nions pas le changement climatique, nous ne sommes même pas sceptiques.
Ce que nous pensons effectivement à propos du changement climatique n'est de toutes façons pas très significatif. Ce qui compte, c'est ce que nous, en tant qu'espèce, essayons de faire au sujet de ce changement. Peut importe, voyez-vous, que les températures montent, qu'elles baissent, qu'elles montent et descendent suivant un cycle ou qu'elles restent stables : ce qui importe réellement est que notre économie basée sur le carbone nous a conduit à vivre largement au-dessus de nos moyens. En arrachant à notre planète toutes les ressources sur lesquelles nous pouvons mettre la main, nous accumulons une dette que nos descendants devront payer.
Que le climat change ou pas n'est pas vraiment le problème. Ce qui est important est que cette préoccupation nous ait conduit à plus de vigilance quant à notre impact sur la planète, ce qui est définitivement une bonne chose. S'il y avait assez de volonté politique pour faire vraiment quelque-chose (et non : l'actuelle accumulation de platitudes législatives n'en relève guère) alors peut-être pourrions nous prendre un peu plus de notre part du fardeau au lieu d'en laisser bien d'avantage à nos gosses pour qu'ils se débrouillent avec. Ici s'achève le sermon. Les BD normales, non satiriques, reprendront la prochaine fois.
Cliquez ici pour télécharger le fichier SVG pour cette bande dessinée