Longue Vie et Prospérité
on
April 7, 2012
at
5:53 pm
This is a French translation of our Season 1 comic "Grow Old and Wealthy" and its accompanying commentary, by Samuel. Click on the image for the full-sized version: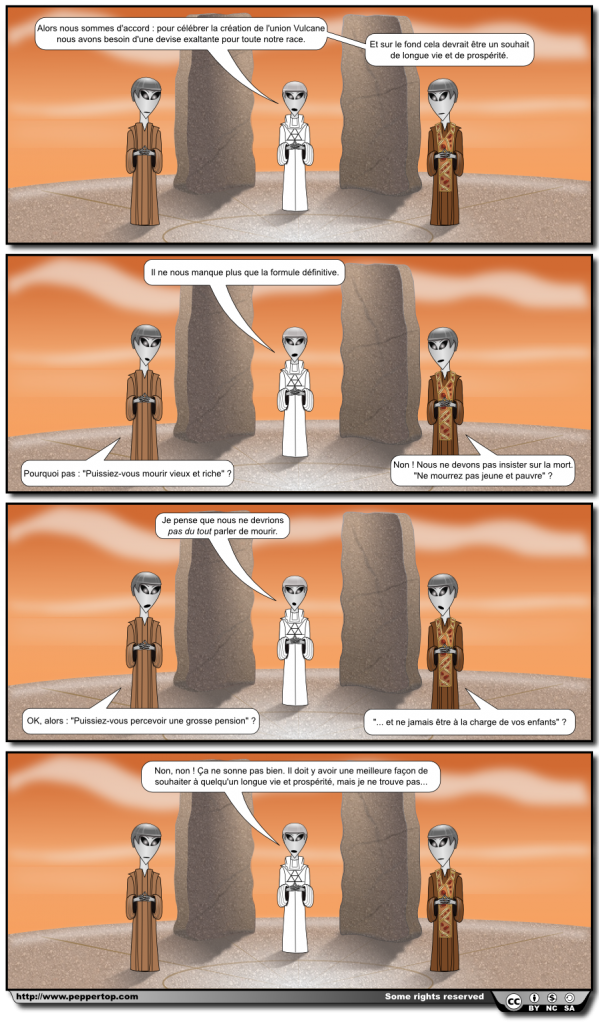 Et encore une pour les fans de Star Trek ! Ou pour ceux de la texture sable d'Inkscape… Ou pour ceux du genre de bureaucratie qui nous conduit à de longues parlottes inutiles qui ne mènent jamais nulle part.
Quiconque a déjà lu une page ouèbe traduite automatiquement sait combien de chemin il nous reste à parcourir avant de pouvoir produire quelque-chose qui ressemble au traducteur universel de Star Trek. En définitive, ce traducteur est simplement un ordinateur sophistiqué qui fait tourner un code complexe et peut donc être sujets aux mêmes bogues et caprices de développeur que n'importe quel autre logiciel.
Ce qui pose la question : à quel point « longue vie et prospérité » est-il conforme à l'original en vulcain ? Peut-être que les vulcains se souhaitent joyeusement de « mourir vieux et riches » et que les traducteurs de la flotte stellaire sont configurés pour être le plus pompeux possible ?
Cliquez ici pour télécharger le fichier SVG pour cette bande dessinée