iPhone – Partie II
on
April 2, 2012
at
10:26 pm
This is a French translation of our Season 1 comic "iPhone – Part II" and its accompanying commentary, by Samuel. It's a direct sequel to his previous translation, "iPhone – Partie I". Click on the image for the full-sized version: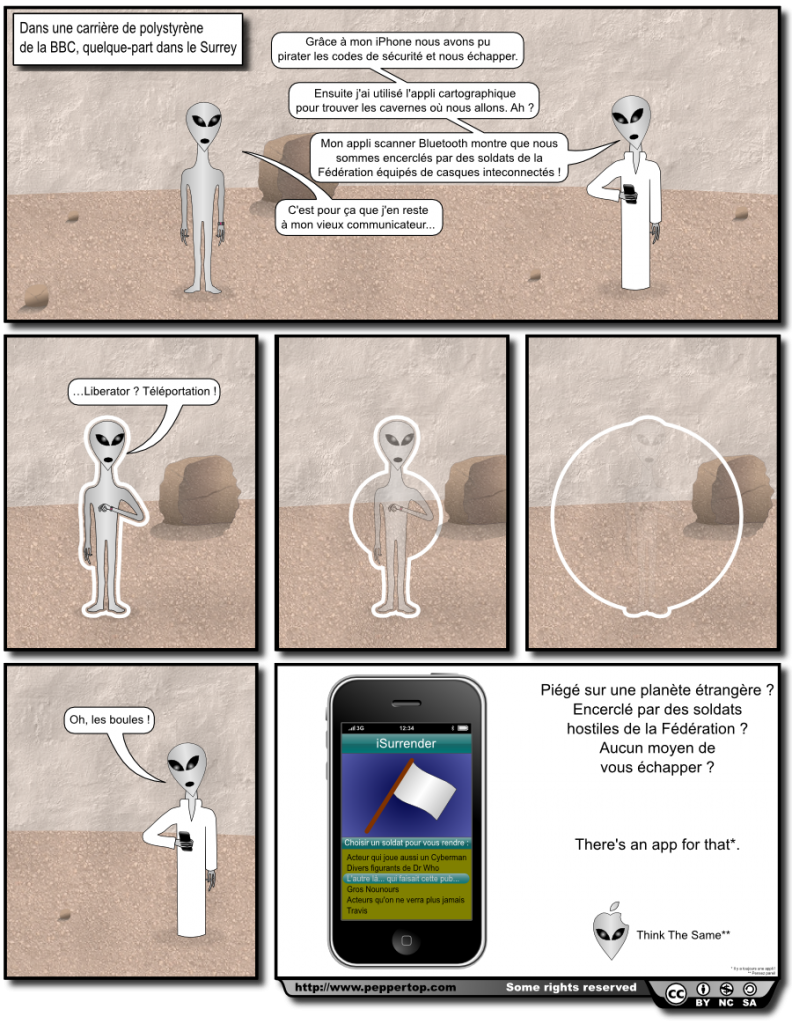 Cette planche s'appelle iPhone – Partie II car elle est sensée être la suite de iPhone – Partie I. Et savez-vous pourquoi elle devait à l'origine faire suite à iPhone – Partie I ? C'est parce-qu'à l'origine, elle était un élément de iPhone – Partie I ! Cette BD, voyez-vous, était en fait l'œuf de Pâques de celle qui la précède.
Nos œufs de Pâques sont parfois si développés qu'ils deviennent des planches complètes, avec plusieurs cases, dissimulées dans les recoins de nos fichiers SVG. Alors si vous vous sentez en manque des Gris et que vous avez besoin d'une autre dose, saisissez une copie d'Inkscape (c'est un logiciel libre) et mettez vous en chasse : vous ne savez jamais ce que vous pourriez trouver…
Cette planche n'est clairement plus l'œuf de Pâques de iPhone – Partie I. Il y a deux raisons à cette scission : non seulement nous avons pensé qu'elle était assez bonne pour avoir le droit de vivre sa propre vie, mais surtout,nous commencions à manquer de BD terminées et avions besoin d'augmenter un peu notre stock.
Maintenant que vous connaissez son histoire, cela explique peut-être un peu le décor de la première planche. En fait, nous l'avions presque appelée Blake 0770 mais son apport avec iPhone – Partie I a prévalue et nous avons opté pour un titre beaucoup moins intéressant, juste pour être sûr que les gens voient bien dans ce gag la suite du précédent.
Cliquez ici pour télécharger le fichier SVG pour cette bande dessinée