Update on the Season 1&2 CDs, Part II
on
June 13, 2011
at
6:40 pm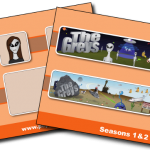 A brief update on progress with the CDs (this is in addition to all the things covered in the previous post):
More tweaks to the sleeve design
The first pass at the HTML5 multimedia interview is complete
HTML pages for all of the English language comics have been created
Some old sketches have been scanned as bonus material
The first of the Easter Eggs have been created (you didn't think we'd create a CD without a few Easter Eggs, did you?)
We're hoping to finalise the sleeve design in the next few days, so look out for another update when they arrive. Remember, once we place an order for the CDs themselves, the price will go up – so don't hang about if you want one at the pre-order price of £3 (the normal price will be £5). Just donate via the buttons below – or visit our Tip Jar for more details.
£1
Less than $2
(Just a tip)