My Valentine's Day Present
on
February 15, 2011
at
3:25 pm
As you may have noticed, yesterday was Valentine's Day. This year, my girlfriend gave me a present that she'd made herself…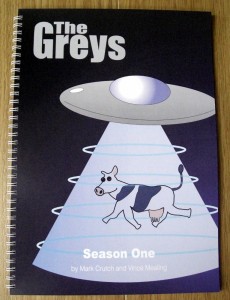 That's right: A book of the whole of The Greys, Season 1. She'd taken the time to download all of the Inkscape source files, load them into Inkscape (which she first had to install on her Mac), export them as PNG files, place them into InDesign (her DTP program of choice), print them out, and get the whole lot spiral bound.
So now I have a cherished memento of Season 1, from the bouncing aliens of "Yeti Boots"…
…through our twin plays on the word "exterminator"…
…including our ever popular Ubuntu themed strip (though not the Spainish version)…
…and finishing up at the "End of Season Party".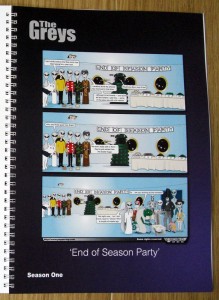 If that's not love, then I don't know what is.