Réellement Rigoureusement Ridicule
on
June 11, 2019
at
7:42 am
This is a French translation of our Season 6 strip Really Rather Ridiculous and its accompanying commentary, by Samuel. Click on the image for the full-sized version: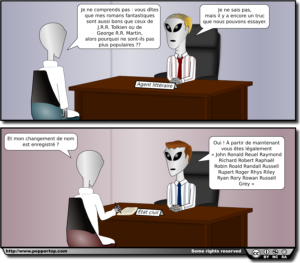 Voici la première planche des Gris mise en ligne depuis plus de quatre ans ! Le pire est qu'elle était terminée à 90 % dès cette époque, mais elle est restée tout ce temps dans nos cartons pendant que nous donnions la priorité à Elvie (après tout, c'est ce qui nous permet de financer l'hébergement de ce site). Avec la diffusion du dernier épisode de Game Of Thrones, programmée aux États-Unis dans seulement quelques heures, il nous a semblé que c'était le bon moment pour terminer les 10 % manquant – ce qui a principalement consisté en la création d'un œuf de Pâque qui est déjà l'un de mes favoris.
Alors que le titre de cette planche, Réellement rigoureusement ridicule, était déjà choisi il y a quatre ans, j'aime à penser que nous avons réellement mis un temps rigoureusement ridicule pour terminer cet épisode – principalement dû au report constant de la production d'un œuf de Pâque, réellement, rigoureusement ridicule. Mais cette fois au bon sens du terme !
Cliquez ici pour télécharger le fichier SVG pour cette bande dessinée