C'est votre faute
on
August 28, 2014
at
8:05 am
This is a French translation of our Season 2 comic "It's Your Fault!" and its accompanying commentary, by Samuel. Click on the image for the full-sized version: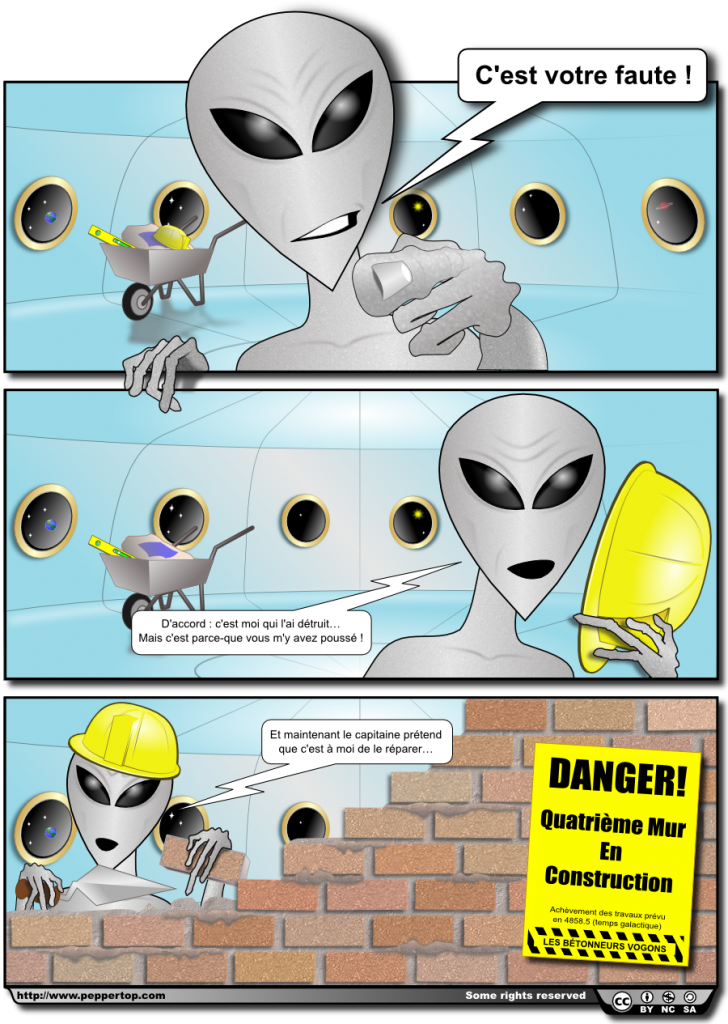 Le brouillon de cette B.D. à été griffonné il y a quelques mois, bien avant que nous ayons eu l'idée de l'épisode précédent, la Vie privée des Gris. Alors que Vince dessinait son charmant vestibule banlieusard, nous avons réalisé que les deux planches exploitaient une situation similaire, bien que depuis des perspectives différentes, et nous avons décidé de mettre en ligne ces deux épisodes consécutivement.
La Vie privée des Gris, joue avec l'idée selon laquelle les Gris s'aperçoivent de la présence du lecteur qui les espionne. Un Gris s'adresse directement au lecteur, comme si à la télé ou au cinéma nous avions abattu le quatrième mur. Bien sûr après avoir cassé quelque-chose, le moins que nous pouvions faire était de le réparer. Alors, grâce à cette planche, le quatrième mur est à nouveau intact et nous pouvons poursuivre avec la certitude rassurante que les Gris sont redevenus inconscients de nos actes de voyeurisme.
Cliquez ici pour télécharger le fichier SVG pour cette bande dessinée