la Guerre des mondes, partie II
on
July 20, 2014
at
10:51 am
This is a French translation of our Season 2 comic "War of the Worlds, Part II" and its accompanying commentary, by Samuel. Click on the image for the full-sized version: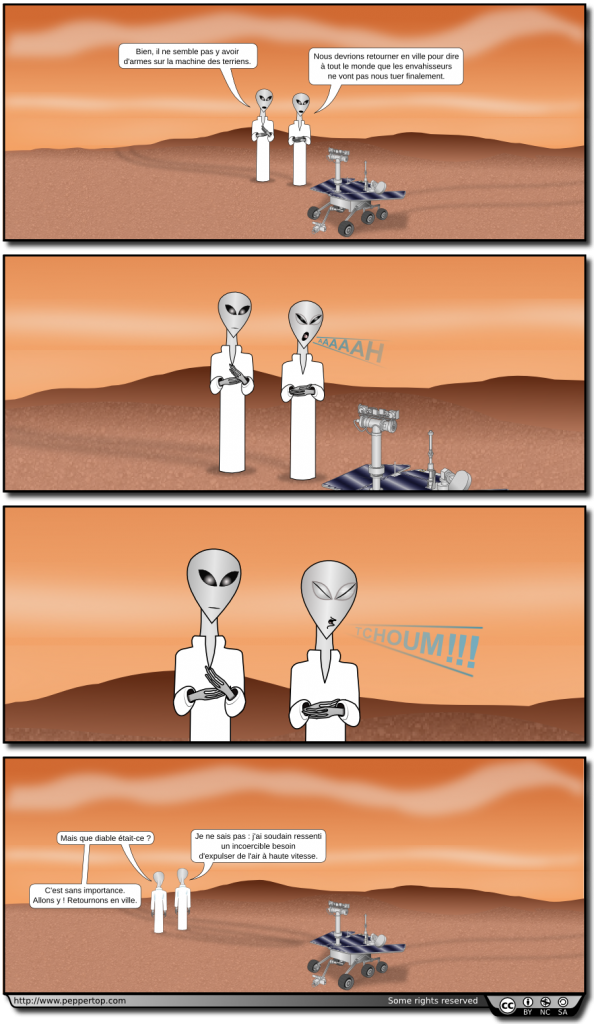 De temps en temps, et même assez fréquemment, nous parlons des œufs de Pâques que nous intégrons à chacune de nos planches. Il peuvent prendre diverses formes : de petits codes qui se lancent quand vous ouvrez le fichier SVG dans le bon navigateur internet, des calques cachés, des petits détails sur lesquels vous devez zoomer après avoir ouvert le fichier dans Inkscape, des codes-barre qui (si vous êtes capables de les trouver et de les déchiffrer) vous conduirons à des pages secrètes de notre site. Le plus souvent se sont des cases supplémentaire qui renforcent, prolongent ou détourne la B.D. et que l'on peut trouver le plus facilement en ouvrant le fichier SVG avec Inkscape et en s'y déplaçant un peu.
Cette planche est, ou plutôt était, l'un de ces œufs de Pâques. Elle était à l'origine une extension de la B.D. précédente, mais nous avons décidé de l'en séparer pour en faire une planche à part entière. Dans un sens c'est un moyen assez simple de faire deux planches à partir d'une seule, mais d'un autre côté cela nous oblige par la suite à créer deux nouveaux œufs de Pâques et à faire au final le double de travail.
Ce n'est pas la première fois que nous transformons un œuf de Pâque en une vraie planche, et je suis sûr que ce n'est pas non plus la dernière. Cela démontre à tout le moins que les œufs de Pâques sont une composante fondamentale de nos B.D. et sont parfois assez volumineux pour à eux seuls faire l'objet d'une publication. Alors si vous n'êtes jamais partis à la chasse aux œufs, faites-en l'essai et vous serez surpris de constater à quel point certains sont évolués. Si vous ne savez pas par quel bout commencer lisez le texte qui accompagne l'épisode pour les Nuls.
Cliquez ici pour télécharger le fichier SVG pour cette bande dessinée