Évitez de le tenir comme ça !
on
January 3, 2014
at
3:58 pm
This is a French translation of our Season 2 comic "The Solution to iPhone Reception Problems" and its accompanying commentary, by Samuel. Click on the image for the full-sized version: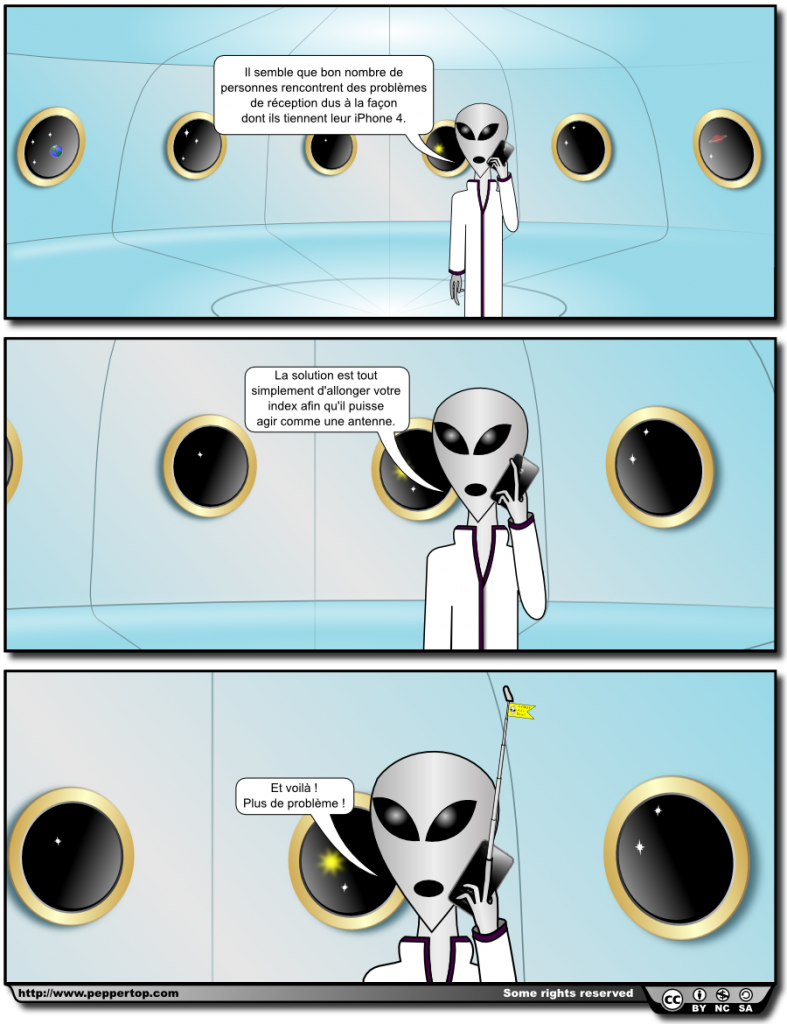 De temps à autres nous aimons publier une planche bonus en plus de nos parutions régulières tous les quinze jours. Cette B.D. en fait partie. Malheureusement, elle tombe au beau milieu de notre série de parodies d'affiches de film. Mais comme c'est un gag d'actualité nous avons préféré la publier maintenant car il y avait de fortes chances pour quelle soit un peu défraîchie lors du prochain créneau, dans trois semaines. Alors si vous étiez venus dans l'espoir de voir notre dernière parodie d'affiche, j'ai grand peur que vous ne deviez attendre une semaine de plus. À moins qu'un autre sujet d'actualité ne surgisse dans l'intervalle…
En ce qui concerne le sujet de cette planche : au cas où vous l'ignoreriez, certaines personnes ont rencontré des problèmes de réception avec le nouvel iPhone 4, particulièrement quand il était tenu dans la main gauche. Le fait a été abondamment évoqué, tant par les médias grand public que par les sites spécialisés.
Je suis surpris que le problème ne se soit pas manifesté durant les tests réalisés par Apple. Mais peut-être n'emploient-ils pas de gauchers aux mains moites ? Je soupçonne ce problème d'être similaire aux soucis de batterie et d'écran rayés sur l'iPod d'antan : le nombre d'utilisateurs réellement affectés est généralement assez faible, mais celui des plaintes sur les blogs, les forums et les réseaux sociaux, ainsi que le nombre de B.D. créées lui est bien supérieur.
Cliquez ici pour télécharger le fichier SVG pour cette bande dessinée