John Hampden (French)
on
January 6, 2013
at
7:09 pm
This is a French translation of our Season 3 comic "John Hampden" and its accompanying commentary, by Samuel. This comic was originally produced for our Local Town Council's magazine. Click on the image for the full-sized version: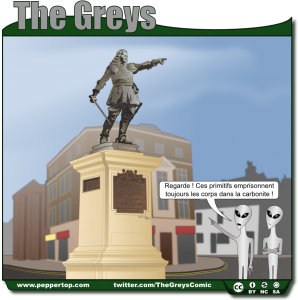 Ceci est notre troisième planche pour le magazine Aylesbury Town Matters. Cette fois, nous mettons en avant un monument emblématique pour les habitants de la ville : la statue de John Hampden.
Hampden était un politicien du 17ème siècle, né dans les environs, et qui représentait le village proche de Wendover avant de devenir député pour l'ensemble du Buckinghamshire. Une biographie plus complète peut-être trouvée sur Wikipedia.
La statue a été sculpté en 1912 par Henry Fehr, et est si représentative de la ville que le conseil de district de la vallée d'Aylesbury a adopté comme logo une version stylisée de celle-ci. Henry Fehr a réalisé de nombreux bustes, mémoriaux et autres travaux pour de nombreuses villes britanniques.
Nous avons mis autant de science-fiction dans cette planche que nous pensons pouvoir le faire pour cette série destinée au Aylesbury Town Matters. Habituellement, nous essayons de privilégier l'aspect historique sur l'aspect SF, mais cette statue est si symbolique de la ville que nous devions la mettre en scène. La référence à Star Wars était le gag le plus évident. Heureusement, elle n'est pas trop obscure pour le lectorat habituel du magazine.
Il y a un anachronisme dans cette planche : nos personnages évoluent toujours dans les années 60 (s'étant posés en 1966 dans la première BD destinée au magazine) mais nous avons dessiné la statue à son emplacement actuel, en haut de Market Square. Malheureusement il y a en ligne un manque de photos d'époque, alors il était plus facile de la représenter dans ce nouvel environnement.
Cliquez ici pour télécharger le fichier SVG pour cette bande dessinée