Vaisseau de nouvelle génération
on
November 26, 2012
at
11:33 am
This is a French translation of our Season 3 comic "The Next Generation of Starship Design" and its accompanying commentary, by Samuel. Click on the image for the full-sized version: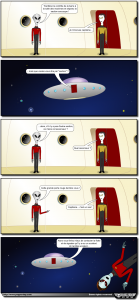 En numérisant les pages de notre « livre de dessins originaux » pour notre CD des saison et 2* j'ai retrouvé beaucoup de vieux croquis pour des planches qui n'ont jamais vu le jour. Certains méritent encore le coup d'œil, comme celui-ci :
Le gag original s'étendait sur les deux première cases, les trois autres cases étant destinées à devenir l'œuf de Pâques. Mais j'ai décidé que je préférais l'œuf de Pâques à ces premières cases et ces cases furent donc élevées au rang de gag principal. Bien sûr cela signifiait qu'à présent il fallait créer un nouvel œuf de Pâques…
---
* La référence au « livre de dessins originaux » fera sens pour ceux qui ont acheté notre CD et écouté l'interview qui se trouve sur celui-ci.
Cliquez ici pour télécharger le fichier SVG pour cette bande dessinée