Un peu de bon sens !
on
October 16, 2012
at
7:36 am
This is a French translation of our Season 4 comic "Moving A Stargate" and its accompanying commentary, by Samuel. Click on the image for the full-sized version: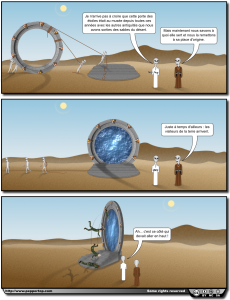 La science-fiction, tout particulièrement à la télévision, déploie des efforts étonnants pour ignorer les problèmes évidents ou les balayer rapidement d'un revers de main. L'exemple le plus frappant est la traduction : qu'il s'agisse du poisson Babel ou du champ généré par le TARDIS, des cultures disparates se sont débrouillées, d'une manière ou d'une autre, pour se faire comprendre les unes des autres en Anglais moderne. Les langues se traduisent parfaitement et, encore plus incroyable, les lèvres sont synchronisées avec les paroles traduites.
La traduction n'est pas un problème dans l'univers de Stargate où toutes les cultures qui descendent d'un peuple qui a quitté la Terre des milliers d'années plus tôt ont vu leur langage évoluer vers un idiomes très proche le l'Anglais Américain moderne. Pas besoin de matériel pour traduire, si tout le monde, de manière bien pratique, parle la même langue.
Mais si cet heureux exemple d'évolution linguistique parallèle règle un problème, la Porte des étoile elle-même en pose beaucoup d'autres. Son fonctionnement basé sur la distorsion de la physique semble suffisamment « flexible » pour se plier à tout moment aux impératifs du scénario. Alors il n'est pas surprenant que l'orientation de la porte ait tendance à être ignorée : aux commandes de votre « puddle jumper » vous pouvez apparemment franchir une porte en orbite dans n'importe quelle position et en ressortir sur Atlantis dans le bon sens.
Peut-être le système des portes est-il doté d'un mécanisme de redressement automatique ? Dieu sait qu'il y a assez de gardes-fou dans ce système d'opération pour que leur contournement soit devenu la clef de nombreuses intrigues ! Mais comment fait-il pour savoir dans quel sens doit voler un puddle jumper une un chasseur Dart ?
Cliquez ici pour télécharger le fichier SVG pour cette bande dessinée