Le smartphone : pas pour les nuls !
on
June 13, 2012
at
7:48 am
This is a French translation of our Season 3 comic "Smart Phone, Dumb User" and its accompanying commentary, by Samuel. Click on the image for the full-sized version: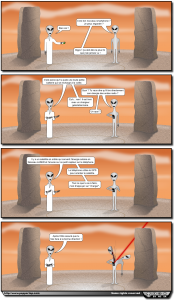 Et nous voici à l'aube de notre troisième saison. Nous considérons généralement cette transition arbitraire comme une occasion d'entreprendre quelque-chose de nouveau ou de différent pour promouvoir les Gris. Cette année nous avons apporté trois changements :
1) Nous sommes maintenant sur Twitter
2) Nous avons maintenant une tirelire pour accepter les dons, petits ou grands, qui serviront à couvrir nos frais d'hébergement
3) Nous avons produit un CD qui regroupe les deux premières saisons (ainsi que des bonus). Il sera envoyé à toute personne qui fera un don de 5£ ou plus via notre tirelire
En guise de remerciement à toutes les personnes qui nous ont soutenu jusqu'ici (en signant notre page Facebook, en nous ajoutant à leurs favoris sur DeviantART ou de toute autre manière) nous distribuons un certain nombre de CD à nos soutiens de la première heure (gratuitement à l'exception de 1£ de frais d'envoi si vous ne venez pas le chercher en personne). Si vous pensez que cela vous concerne, n'hésitez pas à nous contacter.
---
L'inspiration pour cette planche est venue en partie de l'épaisseur sans cesse plus faible des téléphones mobiles et des tablettes. Alors qu'il deviennent de plus en plus large et de plus en plus long pour s'adapter à la taille croissante de leurs écrans tactiles, il semble qu'un effort soit fait en sens inverse pour diminuer leur taille apparente en réduisant leur épaisseur. Bien sûr c'est un compromis : un téléphone plus mince, cela signifie des batteries plus petites et donc une autonomie réduite.
L'ironie, bien sûr, c'est que bon nombre d'utilisateurs achètent alors des boîtiers corpulents qui leur apportent un supplément d'énergie tout en ruinant le bon travail des fabricants. Ils transportent des batteries supplémentaires, juste au cas où… Et probablement un chargeur pour la voiture… Et un autre pour la prise secteur secteur… Certes ils ont gagné quelques grammes avec leur téléphone plus fin et plus léger, mais ils en ont perdu bien d'avantage avec ces périphériques destinés à compenser la perte d'autonomie.
Mais cette planche a une autre source d'inspiration : plusieurs compagnies ont cherché à extraire de l'énergie directement des ondes radio qui nous environnent. Et une réponse souvent proposée au marasme énergétique mondial est de collecter directement l'énergie solaire via un satellite puis de la renvoyer sur Terre sous forme concentrée via un faisceau LASER ou micro-onde (MASER). Ajoutez toutes ces choses l'une à l'autre, agitez*, et vous obtenez cette BD !
---
* Mais surtout ne secouez pas ! (NdT)
Cliquez ici pour télécharger le fichier SVG pour cette bande dessinée