Trait d'union
on
February 27, 2012
at
9:31 pm
This is a French translation of our Season 1 comic "It's Amazing What a Difference a Hyphen Makes" and its accompanying commentary, by Samuel. It's a direct sequel to Samuel's previous translation, "Exterminator". Click on the image for the full-sized version: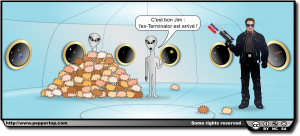 Quand nous avons commencé à travailler sur la planche précédente il y a 12 ans, nous avons évoqué l'idée de ce gag. Mais à l'époque, cela n'avait pas grand sens : Arnold Schwarzenegger était toujours le Terminator et pas encore un ex-Terminator. Nous avons bouclé la première BD mais n'avons pas donné suite à cette seconde idée.
Depuis, Arnie a cessé d'être le Terminator et est entré dans le monde de la politique. Maintenant il est vraiment devenu un ex-Terminator. Alors quand nous avons exhumé la vieille planche sur les daleks et l'avons ressuscitée à l'occasion de la renaissance des Gris, le moment était venu de réaliser cette suite. Cela nous a pris 12 ans, mais nous pensons que ça en valait la peine.
Cliquez ici pour télécharger le fichier SVG pour cette bande dessinée