LOLGris
on
January 15, 2012
at
9:47 pm
This is a French translation of our Season 1 comic "LOLGreys" and its accompanying commentary, by Samuel. Click on the image for the full-sized version: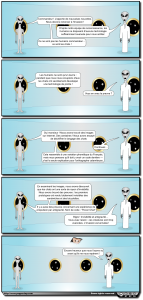 Voici une de nos BD les plus récentes, même si l'idée était dans l'air depuis la première fois où j'ai vu le Chat du Plafond ("Ceiling Cat"). Nous avons pensé qu'il serait mieux de la mettre en ligne au plus tôt : cela fait déjà un moment que les « LOLcat » ont fait leur apparition et nous ne voulons pas nous retrouver avec une planche traitant d'un mème déjà dépassé. Ce qui me rappelle que je dois terminer cette BD, Star Wars Kid…
NdT : le commentaire original date de 2009, mais il semble malgré cela que les "LOLCats" soient encore en vogue plus de deux ans après.
Cliquez ici pour télécharger le fichier SVG pour cette bande dessinée