E' Colpa Tua
on
April 16, 2011
at
11:48 am
This is an Italian translation of our comic, "It's Your Fault!", and the commentary that accompanies it, courtesy of spaventapasseri from inkscapeforum.it. Click on the image for the full-sized version: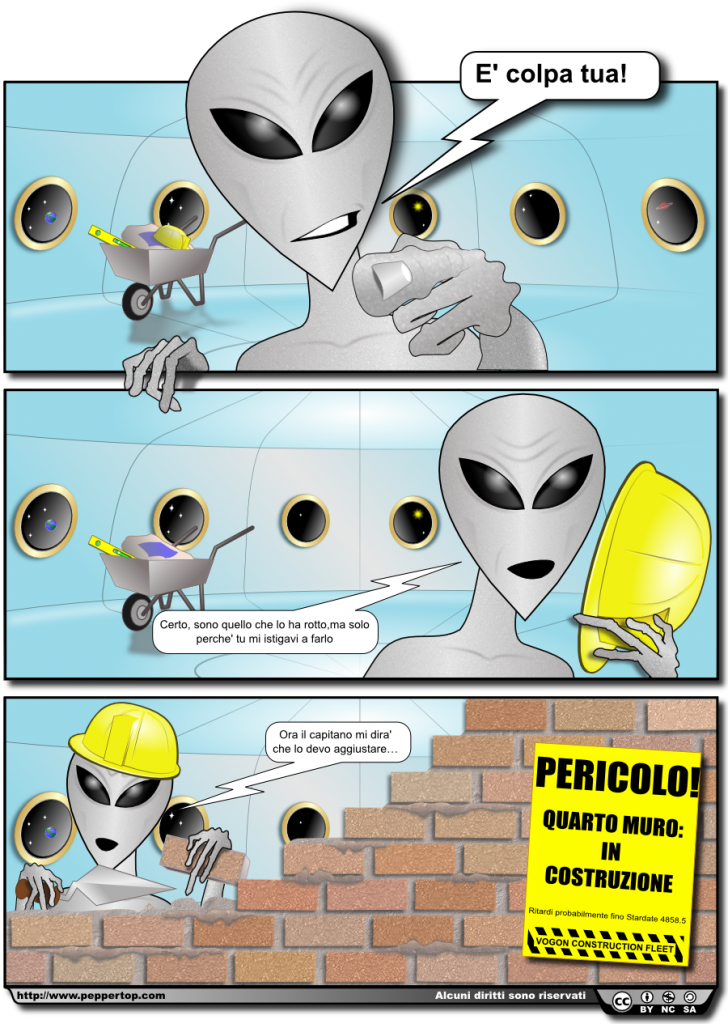 L'idea per il fumetto venne scarabocchiata alcuni mesi fa, molto tempo prima della creazione del fumetto precedente "I Grigi nella Hall". Mentre Vince disegnava il suo bel stretto corridoio
capimmo che entrambi i fumetti partivano da una idea simile, anche se da prospettive diverse, così abbiamo deciso di metterli in sequenza.
"I Grigi nella Hall" gioca con l'idea che gli Alieni si rendono conto che il lettore li sta spiando. Un Alieno parla direttamente con il lettore così che se lavorassimo per la TV o per il teatro noi saremmo quelli che "rompono il quarto muro". Naturalmente, avendo rotto qualcosa, la minima cosa che potremmo fare è cercare di ripararla. Così con questo fumetto il quarto muro è ora nuovamente intatto, e possiamo andare avanti sapendo che gli Alieni sono, ancora una volta, ignari della nostra presenza voyeuristica.
Cliccate qui per scaricare il sorgente SVG per questo fumetto