Bienvenue à Aylebury
on
August 22, 2014
at
10:25 am
This is a French translation of our Season 2 comic "Welcome to Aylesbury" and its accompanying commentary, by Samuel. Click on the image for the full-sized version: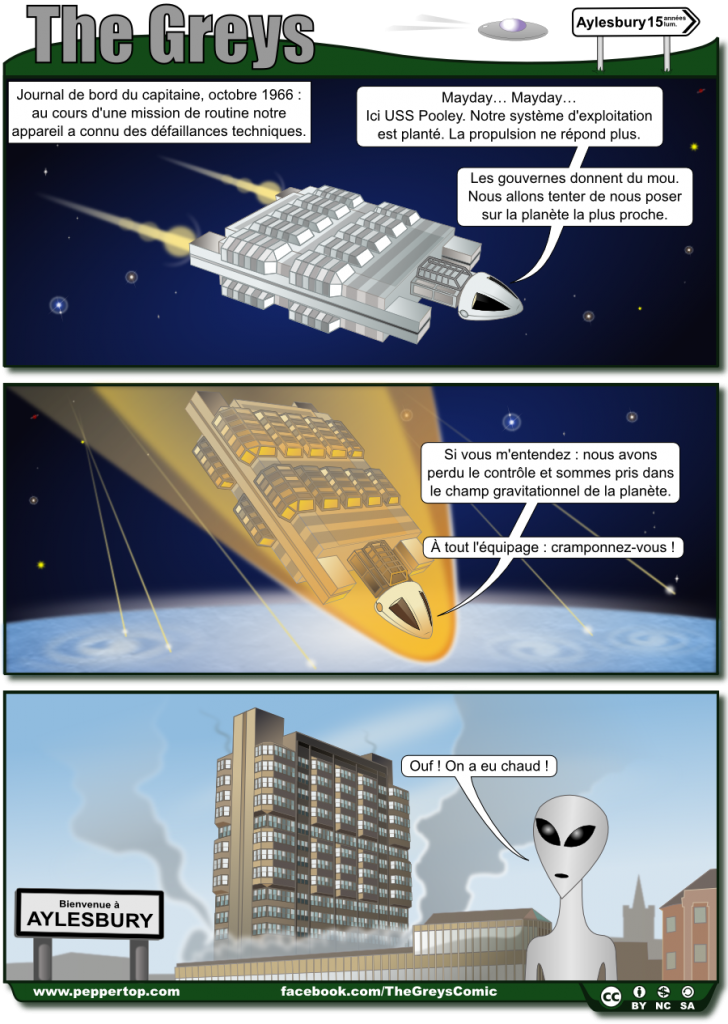 Voici notre première planche pour le bulletin trimestriel de notre conseil municipal, le Aylesbury Town Matters. Elle a été publiée dans le no 20 accompagnée d'un article présentant la B.D. Au cas où vous tiendriez absolument à lire ce texte d'accompagnement une copie de la page en basse résolution est consultable ici. Pour différencier les planches destinées au Aylesbury Town Matters de notre production régulière nous les avons dotées d'une bordure verte. Cela devrait vous aider à les éluder si elles ne vous intéressent pas, ou si vous vous sentez agressés par la grosse police que nous avons dû utiliser pour être sûrs que la version imprimée reste lisible.
Cette B.D. fait référence à un bâtiment local bien connu et quelque peu sujet à polémique : le Aylesbury County Hall1. Il culmine au-dessus des autres bâtiments de la ville et domine le paysage à des kilomètre à la ronde. Bien que souvent décrié comme n'étant rien de plus qu'un monolithe de béton, même ce bâtiment peut-être intéressant par la grâce d'une bonne photo2 :
Pour finir, comme il s'agit de notre première apparition dans ce magazine, nous aimerions saisir cette opportunité pour remercier le conseil municipal et l'équipe responsable du Aylesbury Town Matters : Keith, Hilary et tout particulièrement Danny qui a eu la gentillesse de relever le défi de cette collaboration. Nous aimerions aussi adresser un grand merci à nos amis de Bluepepper Designs, qui mettent en page et impriment le magazine, et se sont montrés incroyablement disponibles et compréhensifs alors que nous apprenions comment faire passer nos fichiers Inkscape de l'écran à la page sans perte de qualité.
---
NdT:
1) Nous dirions le siège du Conseil Général.
2)Heureusement qu'en France nous avons des goûts beaucoup plus sûrs en matière d'architecture comme le prouve ceci (yes, Vince and Mark, the building process is really over : it has been for years indeed ! Anyway I would be glad to know why the spaceship fell in Aylesbury and the exhaust system in Paris…)
Cliquez ici pour télécharger le fichier SVG pour cette bande dessinée