Wikileaks (French)
on
July 25, 2014
at
12:51 pm
This is a French translation of our Season 2 comic "Wikileaks" and its accompanying commentary, by Samuel. Click on the image for the full-sized version: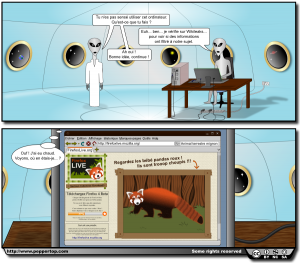 De temps en temps, nous aimons produire une planche en rapport avec l'actualité. La dernière fois c'était au moment de la sortie de l'iPhone 4 et les médias étaient frappés de consternation par ses problèmes d'antenne. Cette fois nous abordons deux actualités récentes, l'une plus largement répandue que l'autre. La première est bien sûr la nouvelle salve de secrets révélés par le site Wikileaks : avec la publication au grand jour de tant d'informations classifiées, que peut faire un extraterrestre sinon s'assurer depuis son orbite que sa présence n'a pas été divulguée ?
Le second thème de cette planche est le lancement de Firefox Live. À l'intention de quiconque ne se sent pas suffisamment versé dans la connaissance des mangeurs de bambous ultra-choupinets et en voie de disparition, il existe deux animaux portant le nom de « panda » : le Panda Géant, noir et blanc ; et plus petit, ressemblant à un raton laveur et unique représentant de son espèce : le panda roux. Ce dernier est également connu en anglais sous le nom de « Firefox1 », ce qui est également le nom d'un des navigateurs internet les plus populaires.
Que peut faire un éditeur quand son principal logiciel est nommé d'après un charmant petit animal en voie de disparition ? La réponse est évidente : créer un partenariat avec un zoo qui élève des pandas roux, y installer une webcam pour filmer les bébés pandas et encourager les visiteur à télécharger la version beta de leur prochain logiciel, en échange de quoi des friandises seront distribuées aux animaux. Basiquement, c'est le projet de site firefoxlive.org qui a été lancé la semaine dernière. Si vous aimez les bestioles presque trop mignonnes pour l'exprimer avec des mots alors vous ne devriez pas vous priver de la visite de ce site.
[Edit, mars 2012 : le site FirefoxLive est maintenant fermée pour les raisons exposées ici2.]
---
NdT:
1) Renard de feu
2) Heureusement le web regorge de vidéos qui vous démontreront que le panda roux est définitivement le champion du monde toutes catégories de la choupinitude animale : là, ici et encore là !
Cliquez ici pour télécharger le fichier SVG pour cette bande dessinée