Cinquante années-lumière
on
September 13, 2013
at
3:24 pm
This is a French translation of our Season 5 comic "Fifty Light Years Away" and its accompanying commentary, by Samuel. Click on the image for the full-sized version: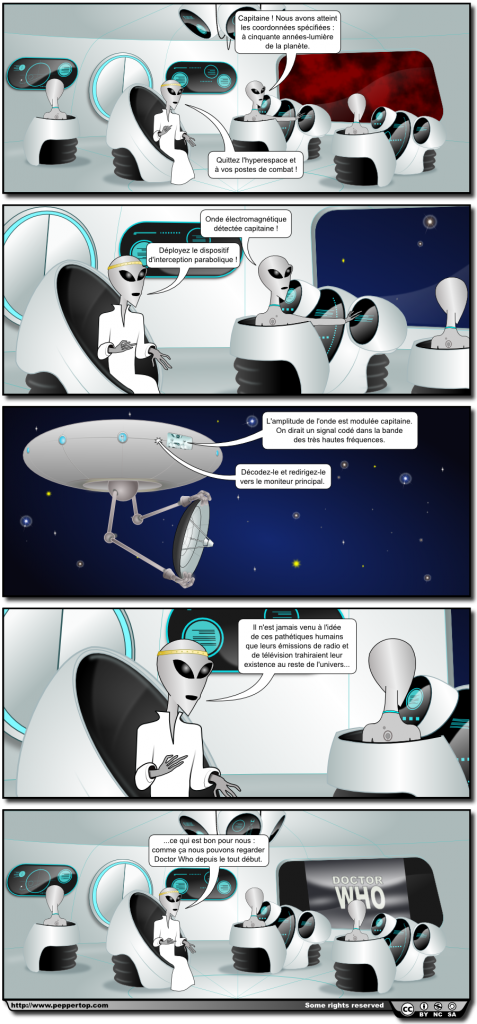 Une autre de nos planches commémoratives du 50e anniversaire de Doctor Who – mais cette fois nous nous sommes imposé le défi de créer une B.D. qui ne mette pas en scène directement le docteur ou un autre des personnage de la série. Comme les ondes radios et les émissions télévisuelles se propagent dans l'espace à la vitesse de la lumière, une installation extraterrestre ou un vaisseau spatial situé à cinquante années lumière de la terre pourrait dans peu de temps capter un signal qui raconte l'histoire d'un étrange vieil homme qui vit avec sa petite-fille dans une cabine de police particulière…
Dans un rayon de 50 années-lumière, 133 étoiles sont visibles à l'œil nu, et environ 2000 si on y ajoute celles qui nécessitent l'usage d'un télescope. On pense que certaines peuvent comporter des exoplanètes telluriques dont une partie se situerait dans la zone habitable. En d'autres termes, on pense que certaines planètes situés à moins de cinquante années lumières de la nôtre pourraient abriter la vie telle que nous la connaissons1.
S'il y a des extraterrestres là-bas, surveillant nos émissions et riant de la représentation primitive des aliens dans les premiers épisodes de Doctor Who, espérons au moins qu'il conserveront un enregistrement de chacun d'entre eux2.
---
NdT
1) Dans Cosmic Connection, Carl Sagan évoque une zone habitable qui pourrait être bien plus étendue qu'on ne le pense généralement, si l'on considère la possibilité de formes de vies très différentes de celle que nous connaissons. Arthur Clarke examine audacieusement cette hypothèse dans son recueil de nouvelles le Vent venu du soleil.
2) Heureusement que la B.B.C. a été plus conservatrice avec ses enregistrements audio, ce qui nous vaut la parution de très beaux albums de Jimi Hendrix, Les Zepelin, Caravan…
Cliquez ici pour télécharger le fichier SVG pour cette bande dessinée