Reservoir Aliens (French)
on
August 13, 2013
at
5:24 pm
This is a French translation of our Season 2 comic "Reservoir Aliens" and its accompanying commentary, by Samuel. Click on the image for the full-sized version: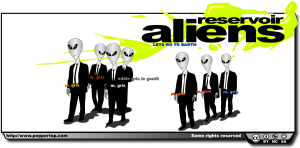 Cette planche diffère un peu des autres planches des Gris : il s'agit d'une parodie plutôt que d'un gag. Elle marque également le début d'une trilogie : « les Gris, série d'affiches de films ; première partie : les films de gangsters ; première planche : Reservoir Aliens », si vous voulez. Mais il nous a fallu admettre que c'était peur-être un peu long pour un titre.
Cette B.D. et la suivante remontent à la première incarnation des Gris il y a quinze ans. À cette époque, à peine deux ou trois ans après la sortie de Reservoir Dogs elle était presque d'actualité. Maintenant nous parions d'avantage sur son côté rétro.
Avec la résurrection des Gris sous la forme de B.D. en ligne nous avons déterré ces planches, les avons dépoussiérées un peu , les avons significativement améliorées, avons ajouté des œufs de Pâques et les avons placées sur la pile des « presque finis » durant quelques mois. Dans l'intervalle nous avons décidé qu'elles devaient être publiées ensembles, mais comme tous les fans de science-fiction savent apprécier une bonne trilogie nous avons pensé qu'ils feraient bon accueil à un troisième rejeton. Alors nous avons travaillé à la parodie d'un troisième film de gangsters (en fait nous travaillons toujours dessus, mais nous devrions avoir fini dans les temps), nous avons peaufiné les derniers détails et nous avons décidé de nous lancer.
Depuis, Vincent est retombé sur son vieux carnet de croquis de cette lointaine époque, comme cela vous pouvez voir à quoi ressemblait le brouillon original de cette planche.
Quand nous avons relancé les Gris sur la toile nous avons également regroupé tous les vieux fichiers Corel Draw que nous avons pu retrouver pour servir de base à notre travail avec Inkscape. Malheureusement, quelques-un des derniers fichiers de notre Reservoir Aliens avaient été jetés depuis longtemps dans notre poubelle numérique. Mais nous avons pu retrouver une des premières versions :
Du croquis original à la version finale, en passant par le style dépouillé de nos premiers travaux sous Corel Draw, il faut bien admettre que laisser quinze ans à ces B.D. pour qu'elles parviennent à maturation nous a certainement menés à un meilleur résultat.
Cliquez ici pour télécharger le fichier SVG pour cette bande dessinée