Réseau antisocial
on
January 12, 2013
at
11:49 am
This is a French translation of our Season 3 comic "Antisocial Networking" and its accompanying commentary, by Samuel. Click on the image for the full-sized version: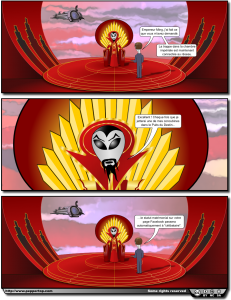 Nous avions ce gag derrière la tête depuis un bon moment, mais il nous fallait un méchant digne de ce nom pour qu'il fonctionne. Il nous fallait précisément le genre de méchant qui entretient un harem de femmes esclaves, mais aussi qui les passe à la trappe à la moindre provocation. Quand nous avons adopté Ming l'Impitoyable (incarné par Max Von Sydow) pour notre BD de la saison 2 « Unusual Suspects », le choix de ce méchant s'est imposé.
Nous avons saisi l'occasion de réutiliser notre arrière-plan de « Rings Of Mongo », modifié de manière à ajouter un joli dais au trône de Ming. Et quel trône ! Il a pour modèle celui qu'utilise Buster Crabbe dans la vieille série qui était rediffusée le samedi matin dans les programmes pour enfants, alors que nous grandissions. Ce trône, à son tour, est fidèlement inspiré de celui d'Alex Raymond dans la bande-dessinée Flash Gordon d'origine. Comme nous n'avions pas d'exemplaire de l'original pour nous servir de référence, notre choix de couleurs a été basé sur les rouges et les ors du film des années 80, bouclant ainsi la boucle qui nous ramène à Max Von Sydow.
Cliquez ici pour télécharger le fichier SVG pour cette bande dessinée