Corrispondenza per il Centenario
on
October 25, 2012
at
12:03 am
This is an Italian translation of our Season 4 comic (and 100th Greys strip), "Centenary Correspondence" and its accompanying commentary and bonus strip, kindly provided by Spaventapasseri from inkscapeforum.it. Click on the image for the full sized version:
Sì, per quanto incredibile possa sembrare, questo è il nostro numero 100 del fumetto Grigi! Non sono sicuro di come questo scherzo arriverà a voi, quindi una piccola spiegazione è dovuta: qui nel Regno Unito è tradizione ricevere una lettera della Regina per il centesimo compleanno. Nel nostro mondo dei Grigi è tradizione ricevere la centesima striscia dei fumetti … ma con una regina molto diversa!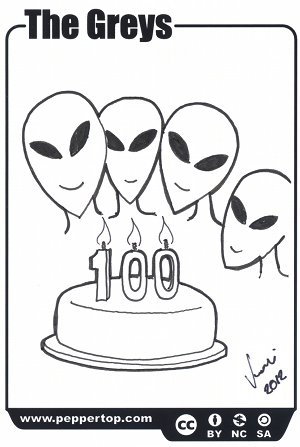 Quando abbiamo iniziato a mettere la penna sulla carta(o il mouse sul tappetino del mouse) nel lontano 1994, non avremmo mai immaginato che avremmo lasciato, ricominciato, lasciato di nuovo, e poi finalmente lanciato la serie come un striscia web circa quindici anni dopo. Da allora abbiamo pubblicato una nuova striscia ogni quindici giorni, oltre ad alcuni quelli bonus infra, che è abbastanza sorprendente, vista la complessità delle strisce (e delle uova di Pasqua) sia aumentata nel tempo. La prima striscia era un unico pannello semplice, e l'Uovo di Pasqua era semplicemente una parte nascosta del testo. Ora, la maggior parte dei nostri fumetti si estendono a più pannelli, ed è comune per l'uovo di Pasqua essere in diverse scene extra che a volte possono essere altrettanto elaborati come la striscia principale.
Non avremmo raggiunto 100 fumetti senza il supporto dei nostri amici, parenti e tutte le persone che hanno seguito il nostro lavoro su Facebook, Twitter o uno dei molti altri siti che dove abbiamo postato. I nostri ringraziamenti vanno a tutti e a ciascuno di voi.
Ma c'è un gruppo di persone che vorrei ringraziare in particolare: i nostri traduttori. Passano il loro tempo e fatica a tradurre i nostri fumetti in modo che possano essere più ampiamente goduti, e non posso esagerare nel dire "quanto" questo sia apprezzato .
Allora cosa abbiamo nel futuro? Stiamo già lavorando al fumetto #101 che è pieno di oggetti di scena e personaggi "delle" ultime 100 strisce, più alcuni nuovi – e non abbiamo alcuna intenzione di smettere qui. Se hai apprezzato i nostri primi cento fumetti, speriamo che vi piaceranno i prossimi 100 ancora di più.
Vorrei concludere questa nota celebrativo con una piccola richiesta di sostegno: ci "aiutereste" davvero cliccando mi piace su Facebook o retwittando, passateli ad amici e parenti, o stampateli e pubblicateli sulla bacheca al lavoro o a scuola. Ci piacerebbe costruire i nostri lettori, ma è molto difficile diffondere la parola per conto nostro. Siamo anche sempre felici di ascoltare pareri dai nostri lettori, quindi non abbiate paura di commentare, Twittare o scriverci e-mail.
Cliccate qui per scaricare il sorgente SVG per questo fumetto