Botas de Ieti
on
August 12, 2012
at
12:22 pm
This is a Brazilian Portuguese translation of our Season 1 comic "Yeti Boots" and its commentary, by Leonardo Melo. Click on the image for the full-sized version (or visit ADFENO's Deviant Art page):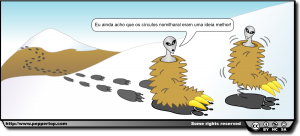 Bem-vindo ao The Greys. Esta é a primeira tira publicada – porém, não é a primeira a ser desenhada. Esta tira surgiu na gênese original do The Greys em 1994, você pode ler tudo sobre tal na página "Sobre o The Greys".
Se esta é a sua primeira visita ao nosso pequeno site, você gostará de saber que nós lhe damos mais direitos para reutilizar e remixar nosso trabalho do que a maioria das tiras pela internet – começando pelo fato de disponibilizarmos o arquivo fonte SVG. Você pode ler sobre seus direitos na página "Usando e Modificando Nossas Tiras".
Assim como a maioria das nossas tiras, esta inclui um Easter Egg – embora seja muito inferior e não tão difícil de encontrar (bem, nós começaremos devagar).