La Nuit du Film Soporifique
on
July 1, 2012
at
10:16 pm
This is a French translation of our Season 3 comic "A Rather Dull Film Night" and its accompanying commentary, by Samuel. Click on the image for the full-sized version: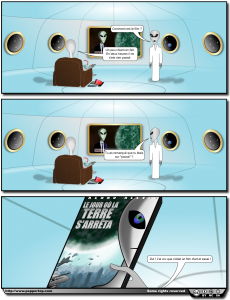 Je suis sûr que certains de nos lecteurs sont déjà en train de râler dans leurs barbes, critiquant notre choix de baser cette planche sur le remake de 2008 de le Jour où la Terre s'arrêta plutôt que sur l'original. A ces personnes, tout ce que je peux dire, c'est qu'il y a une bonne raison !
En définitive, aucun d'entre nous n'a vu le remake alors que nous avons tous les deux grandi en regardant l'original de temps en temps, quand il était diffusé à la télé le dimanche après-midi. Nous étions sans doute trop jeunes pour apprécier pleinement les thèmes sous-jacents, mais cela a sans doute contribué à notre amour pour les vieilles série-B de science-fiction… même si celui-ci est plutôt sur le dessus du panier avec des décors corrects et le soutien d'un budget digne de ce nom*.
---
* NdT : pour les anglophones, B-Movie correspond à ce que nous appellerions un « navet » ou un « narnar », alors que de notre côté du Channel, l'expression désigne un film à petit budget, mais pas forcément un mauvais film. Le Jour où la Terre s'arrêta (dans sa version de 1951) est plutôt considéré, chez nous, comme un classique de la SF.
Cliquez ici pour télécharger le fichier SVG pour cette bande dessinée