Milliards de Singes
on
February 11, 2012
at
1:15 pm
This is a French translation of our Season 3 comic "7 Billion Monkeys" and its accompanying commentary, by Samuel. Click on the image for the full-sized version: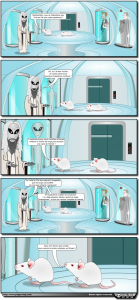 Le paradoxe du singe savant a été énoncé de différentes manières au fil des années. Dans certaines versions un nombre de singes infini tapera inéluctablement les œuvres complètes de Shakespeare ; d'autres restreignent le nombre de singes mais étendent la période de temps allouée. Une bonne proportion, comme chez les Simpsons, reformulent le théorème selon une variante quelconque de « x singes tapant sur des machines à écrire durant y années finiront par écrire (insérer ici le titre d'un texte célèbre et volumineux) »
Les variations les plus récentes sur ce thème choisissent souvent un million de singes et Hamlet semble en être communément la cible. Jetez dans le creuset une pincée de le Guide du voyageur galactique1 pour fournir les personnages et les décors d'une version expérimentale de la théorie et vous obtenez une planche de BD.
Cette expérience a véritablement été tentée, mais avec des singes virtuels. Bien sûr, on pourrait aussi affirmer qu'étant donné un échantillon assez large d'êtres humains, l'un où l'autre devait presque certainement produire une simulation informatique de l'expérience. En fait, avec assez d'humain et assez de temps, c'est la création de cette BD qui était inévitable.
1: Une série qu'il vous faudra connaître sur le bout des doigts pour pouvoir apprécier pleinement certaines planches des Gris.
Cliquez ici pour télécharger le fichier SVG pour cette bande dessinée