Numéro 6
on
April 2, 2013
at
8:13 am
This is a French translation of our Season 4 comic "Number 6" and its accompanying commentary, by Samuel. Click on the image for the full-sized version: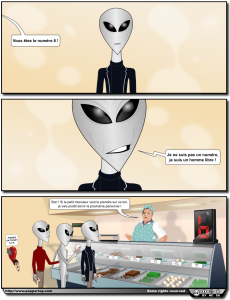 En tant que britannique et fan de science-fiction je devrais probablement avoir honte d'avouer que je n'ai jamais vu le Prisonnier. J'entends par là que je ne me suis jamais assis pour regarder les dix-sept épisodes du début à la fin, même si j'ai pu voir un épisode à l'occasion, et de nombreux extraits au fil des années.
Récemment j'ai décidé de corriger cette anomalie et d'essayer de le regarder. J'ai vu qu'il était disponible en streaming sur Lovefilm (un service anglais de vidéos en streaming et de location de DVD, propriété d'Amazon). Comme j'ai un abonnement Lovefilm valide ainsi qu'une télévision et un lecteur Blu-Ray, tous les deux équipés de l'application Lovefilm, j'avais hâte de pouvoir le regarder sur mon écran, dans le confort de mon salon.
Si ce n'est que je n'ai pas pu le trouver (le Prisonnier, pas mon salon).
J'ai revérifié sur leur site internet, sûr qu'il était disponible sur « Lovefilm Instant » leur service de streaming. J'ai à nouveau vérifié la télé et le Blu-Ray, farfouillant manuellement parmi toutes les catégories plausibles après que toutes les options de recherches m'aient fait faire chou blanc.
J'ai contacté leur service d'assistance seulement pour m'entendre dire que leur licence pour le Prisonnier les autorisait exclusivement à une diffusion via un navigateur. Malheureusement, leur interface nécessite Microsoft Silverlight et n'est donc pas disponible pour ma machine sous Linux. Alors, bien que payant pour un abonnement Lovefilm, et bien que possédant deux appareils compatibles avec Lovefilm Instant j'étais dans l'impossibilité de regarder un programme datant de 1967 en raison d'un accord de licence ridicule : Lovefilm peut envoyer un flux d'octets vers une machine sous Windows ou sous Mac OS mais pas vers une machine sous Linux, et pas non plus vers du matériel équipé de leurs propres applications.
Étonnez-vous que certains recourent au piratage !
Cliquez ici pour télécharger le fichier SVG pour cette bande dessinée