Onzinnige Zuinigheid
on
January 23, 2015
at
6:42 pm
This is a translation of our season 5 strip, "False Economies" – and the commentary that accompanies it – into Dutch, kindly provided by Kirsten Roth-Koch. Click on the image for the full sized version: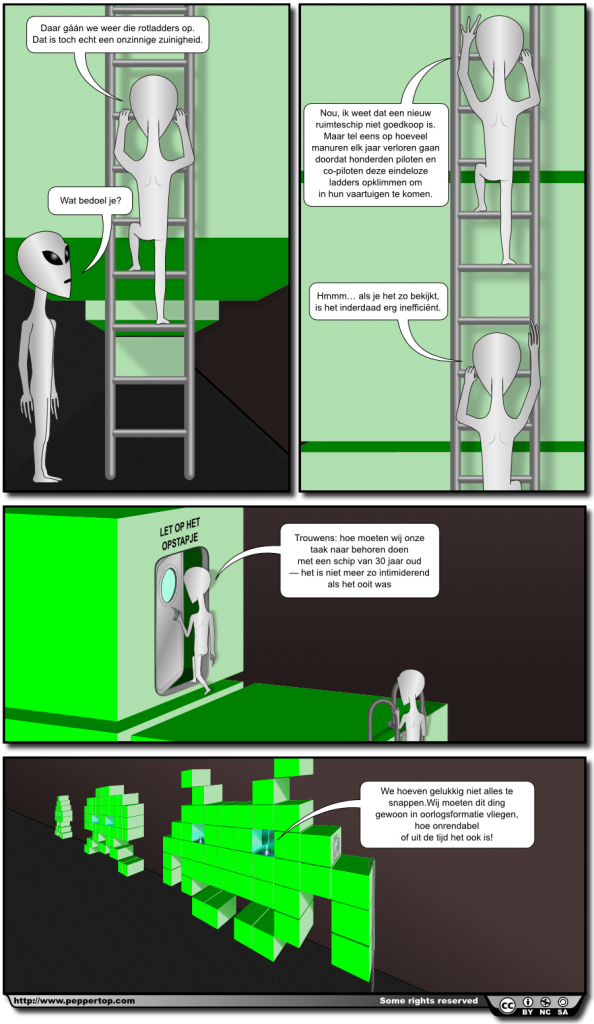 Het idee voor deze strip stond al een tijdje op stapel — het is zelfs ouder dan deze strip.
De Space Invaders vallen aan in slagorde en dat heeft iets goedaardigs en kwaadaardigs tegelijkertijd. Het goedaardige zit hem daar in, dat het compleet voorspelbaar is: met een goede timing kun je de invaders allemaal neerschieten. Er zijn geen narigheidjes of onverwachte wendingen, geen extra krachtschilden. Het is gewoon de menselijke reactie tegen de snelheid van een machine.
Maar.. het marcheren van de invaders lijkt tegelijkertijd ook iets kwaadaardigs te hebben. Het doet denken aan het machtsvertoon van sommige landen, wanneer ze hun gevechtstroepen in het openbaar laten marcheren. De pixelwezentjes die in onophoudlijke golven aanvallen, lijken ook op invasies van zombies. Je kunt dit spel niet winnen: het enige wat telt, is hoe lang je het kunt overleven. Wat dat dan weer zegt over het politieke doel van dat machtsvertoon, mag je zelf bedenken.
Er is een duidelijke reden dat deze strip uiteindelijk het daglicht heeft gezien. In mijn vervolgserie van Inkscape tutorial artikelen in het Full Circle Magazine, is het bijna tijd voor één van mijn minst gebruikte gereedschappen van het Inkscape arsenaal: de 3D kubussen. De leukste manier om dit gereedschap onder knie te krijgen is dan toch wel om er een strip mee te maken.
This comic is also available on my Dutch blog on Inkscape:
Deze strip vind je terug op mijn Nederlands blog over Inkscape:
https://basiscursusinkscape.wordpress.com/2015/01/22/de-grijzen-onzinnige-zuinigheid/
Klik hier om het originele SVG bestand van deze strip te downloaden