De Verschrikkelijke Sneeuwman
on
November 29, 2014
at
2:16 pm
This is a translation of our very first strip, "Yeti Boots" – and the commentary that accompanies it – into Dutch, kindly provided by Kirsten Roth-Koch. Click on the image for the full sized version: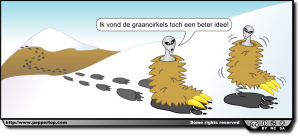 Welkom bij De Grijzen. Dit is de eerste strip die we publiceren – hoewel het niet de eerste is die we tekenden. De oorsprong van de strip ligt in 1994, waarover je alles kunt lezen op de pagina "About The Greys".
Ben je voor het eerst op onze website? Dan willen we dit graag zeggen: je krijgt van ons veel vrijheid om ons werk te hergebruiken en te veranderen. We gaan hierin verder dan meestal het geval is met web strips en geven je zelfs de originele SVG bestanden. Lees meer over deze licentie op de pagina "Using and Modifying Our Comics".
Met een beetje speurwerk kun je het paasei vinden, dat we meestal in de strips verstoppen. In deze strip is het ei niet al te moeilijk te vinden – een eitje zogezeid.
---
N.v.d.V: De verschrikkelijke sneeuwman
Zoals een Engelsman ooit zei: "Dit Nederlandse woord klinkt exact zoals de betekenis luidt: verschrikkelijk."
Het paasei is logischerwijze onvertaald. Kom je er niet uit, vraag dan om een hint aan de makers..

This comic is also available on my Dutch blog on Inkscape:
Deze strip vind je terug op mijn Nederlands blog over Inkscape:
https://basiscursusinkscape.wordpress.com/2014/11/28/de-grijzen-de-verschrikkelijke-sneeuwman/
Klik hier om het originele SVG bestand van deze strip te downloaden