Nativité
on
July 29, 2014
at
8:22 am
This is a French translation of our Season 2 Christmas comic "Nativity" and its accompanying commentary, by Samuel. Click on the image for the full-sized version: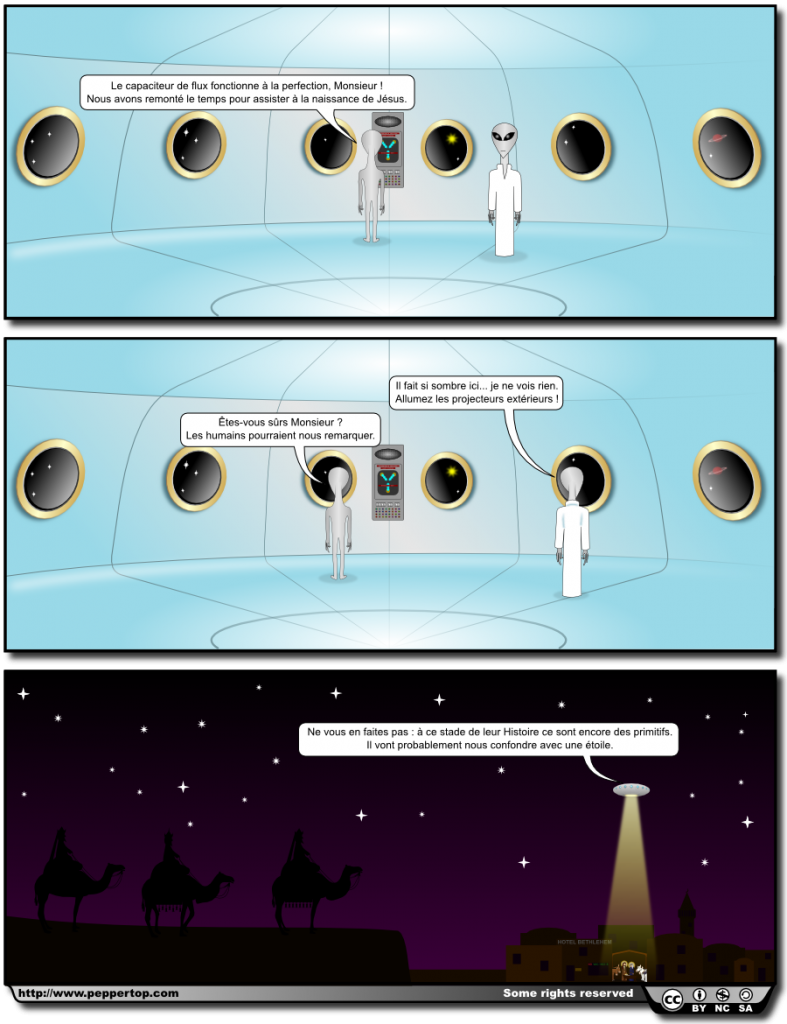 Habituellement, quand nous postons une planche bonus, nous en profitons pour repousser d'une semaine la sortie de l'épisode suivant, ce qui nous aide à soulager la pression qui pèse sur notre stock jamais assez rempli de B.D. terminées. Cette fois, cependant, nous avons décidé de nous en tenir à notre calendrier original malgré la planche bonus Wikileaks, vous offrant ainsi trois parutions en autant de semaines ! Pas étonnant que je me sente épuisé.
Bien sûr, la répétition incessante des mêmes chants de Noël à la radio, encore, et encore, et encore… contribue probablement beaucoup à cet épuisement. Mais c'est aussi la raison de notre respect du calendrier. Oui, revoici la période de l'année où nous nous sentons obligés de nous torturer la cervelle en quête d'une idée qui convienne aux fêtes. L'année dernière c'était un Accueil glacial : une planche dont le seul rapport avec la saison de la bonne volonté est la présence de neige et d'un bonhomme de neige ; et une démonstration du manque de bonne volonté typique dont les puissances militaires tendent à faire preuve partout à travers le monde. Où est-il le temps des appels à la trêve pour une partie de football* ?
Cette année nous avons opté pour quelque-chose qui fait référence à Noël de manière plus évidente (même si peut-être irrévérencieuse). Nous espérons que les Chrétiens qui nous lirons ne se sentirons pas offensés car telle n'est pas notre intention. Pour les non Chrétiens, nous serons de retour avec un humour plus séculier pour le Nouvel An. En attendant nous souhaitons que vous passerez tous de bons moments, quelles que soit les célébrations saisonnière auxquelles vous aurez choisi de vous livrer. Et rappelez-vous que les Gris seront de retour, en temps voulu, le 6 janvier puis par la suite chaque quinzaine tout au long de l'année.
---
NdT:
Un autre lien sur ce sujet, et une photo émouvante.
Cliquez ici pour télécharger le fichier SVG pour cette bande dessinée