Jouons au docteur
on
February 15, 2014
at
1:06 pm
This is a French translation of our Season 5 comic "The Game of the Doctor" and its accompanying commentary, by Samuel. Click on the image for the full-sized version: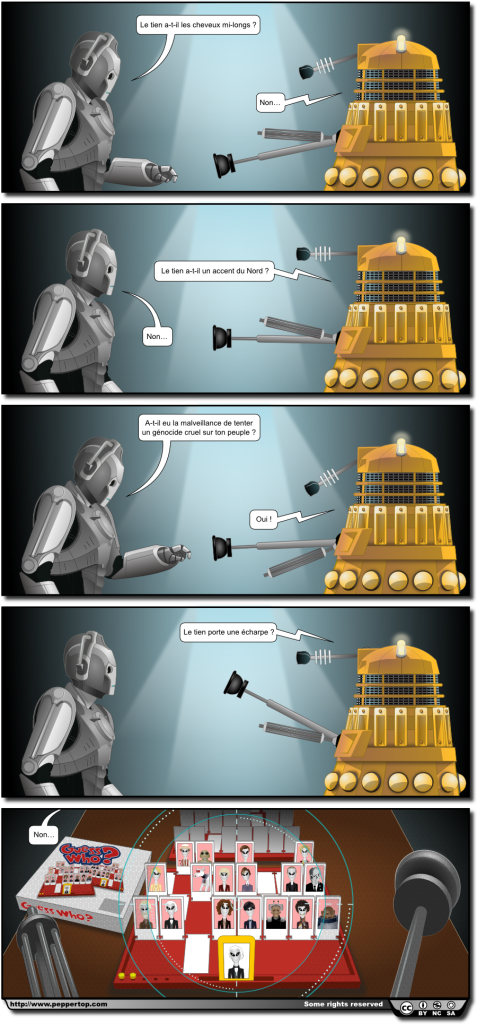 Tout au long de la saison 5 des Gris, nous avons célébré le cinquantième anniversaire de Doctor Who ; et bien que la date précise soit maintenant dépassée, la saison n'est pas encore terminée.
Ceci n'est pas notre première, ni même notre seconde planche, en rapport avec un jeu de société. Malheureusement, il se pourrait que celle-ci ne s'exporte pas particulièrement bien, dans la mesure où, à l'heure où j'écris, « Guess Who1 » a seulement été publié aux États-Unis et en Angleterre.
Post scriptum : merci à Sami pour le commentaire qu'il a laissé, il m'a fait découvrir que le jeu était sorti dans de nombreux autres pays, sous d'autres noms. Comme le gag repose surtout sur le titre « Guess Who » qui suggère un jeu basé sur Doctor Who, je pense toujours qu'il ne s'exportera pas très bien, mais ce sera toujours un peu mieux qu'à l'origine2.
---
NdT
1) Il s'agit du nom Anglais de notre bon vieux Qui est­-ce ?
2) You should have asked me Mark ! This game is well known in France and my nieces are fond of it ! I'm sure you would enjoy this one !
Cliquez ici pour télécharger le fichier SVG pour cette bande dessinée