A Visit to the National Media Museum
on
February 10, 2014
at
9:05 am
A few months ago we were lucky enough to have our Doctor Who themed comics accepted for inclusion in the "Doctor Who and Me" exhibition at the National Media Museum in Bradford. Last week I was able to get some time off work for a trek up north, to stay at a friend's delightful guest house in Harrogate — a perfect base for a day trip out to visit the museum and see our work in context.
Our comic strips made two appearances in the exhibition. First, we had supplied a set of printed and laminated strips that were on a shelf with other books and printed material, next to some comfy seats. I'm pleased to say that they were looking well thumbed: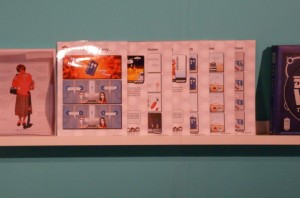 Secondly I had programmed a special version of our website for use on the "interactive kiosks". I was under the impression that it was going to be one kiosk per site, but in practice there were three kiosks (one of which was under repair) from which it was possible to access a number of contributor's sites via a main menu. Had I known, I would have programmed the site a little differently, as my efforts to reduce our bandwidth consumption by pre-loading all the comics will have actually had the effect of increasing our bandwidth use and slowing down the loading of the page when mixed with other sites on a machine. That'll teach me to try to get too clever with my code 😉
The remainder of the exhibition was fascinating in a variety of ways. With contributions ranging from super-fans who eat, sleep and breathe Doctor Who, to home-made paraphernalia from schoolkids, there was certainly a huge amount of breadth to the items on display. Then, on the way out — and without any prompting or influence, I might add — I was delighted to see a potential Greys fan (or very small cyberman) had found our comics on the kiosk and was happily working his way through them: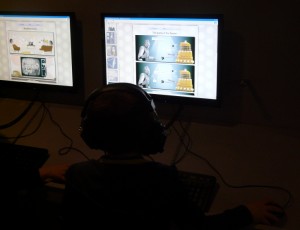 I spent the rest of the day wandering round the other parts of the museum — it's well worth a visit if you're in the area. The TV floor offered loads of hands-on exhibits for big and small hands alike. Even the section about advertisements was better than I had expected, with plenty of "ah yes, I remember that one" moments.
The section on computer games was a bit of a mixed bag: other than a timeline of games consoles it was largely taken up with retro arcade machines which were playable (albeit at 10p or 20p a time). Now I love retro arcade machines as much as anyone — and was delighted to get to the top of the high score table on Donkey Kong — but the machines were simply set up with no real context or description as to why each of them should be considered worthy of a place in a museum. And the joystick on "Scramble" was broken, wasting my 10p on that machine (where's a grubby man in a change booth to complain to when you want one?).
I would love to see a more curated approach to the video games section. It's one area where Britain still competes strongly with the rest of the world, and is a form of media like no other — certainly one that's worthy of a bit more depth than just "here are some games to play on".
Next to the games section was a much larger area dedicated to animation. It was great to see some original artwork and cels on the wall – not to mention the only surviving Wallace & Gromit set, but I can't help feeling that maybe it's time to give over a little more of that space to the games exhibit.
Finally it's worth mentioning the café. Although the queuing was a little haphazard, the food was good, the portions generous, and the prices were very reasonable. It's nice to visit a tourist attraction that doesn't feel the need to gouge you for every penny when it comes to food and drink.
All in all it's a great museum to visit if you're in the area — even if you don't have any items on display there 😉