Quand tu es mort, c'est pour longtemps
on
May 26, 2013
at
5:35 pm
This is a French translation of our Season 3 comic "Dead for a Long Time" and its accompanying commentary, by Samuel. Click on the image for the full-sized version: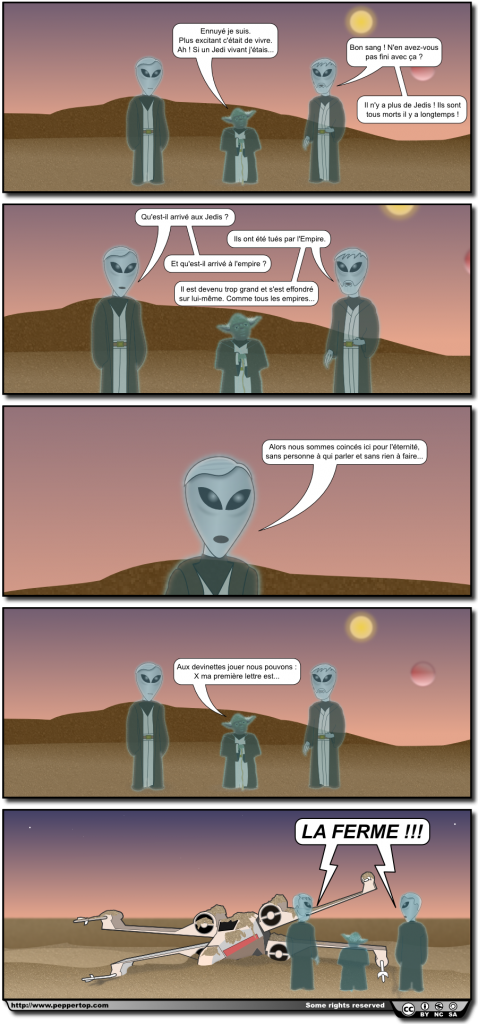 L'immortalité, sous une forme ou sous une autre, est un thème récurent de la science-fiction et de la fantaisie. Il y a les immortels « mortels » de Highlander. Et il y a les immortels d'innombrables films de vampire, ce qui appartient sans doute d'avantage au domaine de Monsters Inked, si ce n'est que nous n'écrivons généralement pas de commentaire pour cette B.D. Et bien sûr il y a tous ces héros tombés au champ d'honneur, qui plutôt que d'aller batifoler aux Champs Élysées préfèrent traîner à proximité de leurs anciens camarades pour les perturber avec leurs bons conseils aux moments les plus inopportuns.
Dans l'univers de Star Wars ce dernier rôle est tenu par les fantômes de force. Oui, vous pouvez fort bien avoir grandi en pensant que tous les bavardages adressés à Luke par Obi-Wan n'étaient qu'une métaphore, une preuve que Luke perdait la boule ou juste un MacGuffin, mais cela n'a jamais empêché le noyau dur des fans de Star Wars de reconstituer toute une mythologie sur cette base.
Mais peu d'histoire traitent réellement de l'immortalité. Certes Higlander et même Buffy contre les vampires mettent en scène des moments d'angoisse quand leurs personnages principaux se rendent compte qu'ils vont devoir survivre à ceux qu'ils aiment (en admettant toutefois qu'ils gardent leur tête sur les épaule et que, dans le cas des vampires, ils sachent éviter les fougasses trop riches en ail et les cabines de bronzage). Quoiqu'il en soit, bien après la perte de leurs proches, de leurs descendants et du reste de l'humanité, le destin de ces immortels, vampires et autres fantômes, est d'assister à l'ultime effondrement de l'univers autour d'eux.
Alors, puisque la vie et la mort ne sont qu'un même voyage, il n'y a plus qu'une chose à faire quand toutes les possibilités sont épuisées : jouer aux devinettes ! Et puis : who wants to live forever1,2 ?
---
NdT
1) Chiche ?
2) Tout en étant incapable de la re-situer, je suis persuadé que mon titre, quand tu es mort c'est pour longtemps, est une réminiscence d'une réplique de film. Un kilo de prune à qui saura rafraîchir ma mémoire embrumée par le Côte du Rhône.
Cliquez ici pour télécharger le fichier SVG pour cette bande dessinée