Gauche, gauche, gauche !
on
April 22, 2013
at
7:53 am
This is a French translation of our Season 3 comic "Left, left, left. Advance. Right, right, right. Advance" and its accompanying commentary, by Samuel. Click on the image for the full-sized version: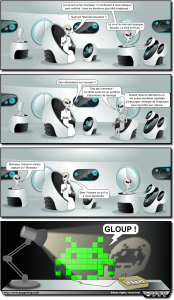 Au bon vieux temps, quand j'étais môme, nous n'avions pas ces superbes graphismes en couleur que nous considérons comme allant de soit dans les jeux vidéo modernes. Les personnages n'étaient que des amas de pixels, et si vous vouliez de la couleur il vous fallait coller des bandes de cellophane sur votre écran en noir et blanc. Quant aux créatures fabuleuses peintes sur la carrosserie des bornes d'arcades, cela était affaire d'imagination car il n'y en avait pas la moindre trace sur l'écran !
Mais ce récit d'une jeunesse en noir et blanc n'est peut-être pas tout à fait exact… Je ne suis pas vraiment assez vieux pour avoir joué à la version originale de Space Invaders. Il n'y avait pas de salle d'arcade là où j'habitais : on les trouvait seulement sur les lieux des vacances en famille, et y engloutir des flots de laiton semblait plus avantageux que ces jeux vidéo qui dévoraient des tonnes de nickel et ruinaient les gosses comme moi en moins de temps qu'il n'en faut pour le dire.
Ma première véritable rencontre avec Space Invaders s'est probablement déroulée sur l'Atari 2600 flambant neuve de mon oncle. Elle affichait de véritables couleurs sans avoir recours à la cellophane, mais les gros amas de pixels exigeaient toujours une forte dose d'imagination. C'est peut-être ce qui a conduit à la naissance de cette planche. Et aussi de celle-ci !
Cliquez ici pour télécharger le fichier SVG pour cette bande dessinée