99 s'encanaille
on
April 27, 2013
at
11:14 am
This is a French translation of our Season 4 comic "How 99 Got Smart" and its accompanying commentary, by Samuel. Click on the image for the full-sized version: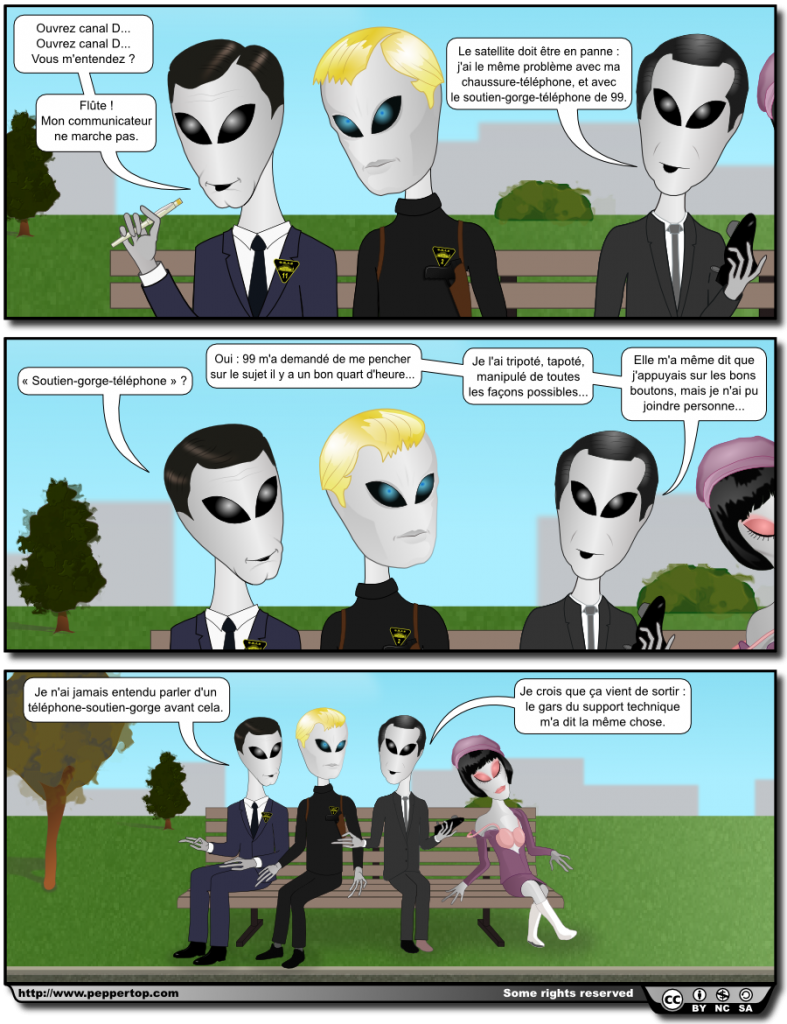 Voici la dernière planche de la saison 4. Chaque année nous changeons la bannière du site des Gris, et cette année elle était inspirée du classique des séries d'espionnage : des Agents très spéciaux.

Toutefois, à mesure que nous approchions de la fin de la saison, nous avons réalisé que nous n'avions jamais créé de B.D. utilisant vraiment les personnages de la série, ou même y faisant allusion. Ce manque exigeait d'être comblé, et de préférence avant que le passage à la saison 5 n'apporte une nouvelle bannière.
En réfléchissant aux éléments les plus emblématiques de la série, il est apparu de manière évidente que nous devions utiliser le personnage de Robert Vaughn, Napoléon Solo, et celui de David McCallum, Illya Kuryakin ; alors nous avons commencé à travailler sur une version « grise » de chacun d'eux. Le stylo-communicateur avait l'air d'un apport intéressant, mais il nous a amenés à une discussion sur le téléphone-chaussure utilisé dans Max la menace, la merveilleuse parodie du genre espionnage de Mel Brooks.
C'est un genre qui se prête à l'humour : pour chaque Bond il y a un Flint et pour chaque Napoléon Solo il y a un Maxwell Smart, sans parler d'Austin Powers et de l'inspecteur Gadget ! Notre B.D. est juste un petit apport à cette riche culture de la parodie d'espionnage, mais nous pensons qu'elle fait une très bonne fin pour cette saison.
La question maintenant est : qu'allons-nous utiliser comme bannière pour la saison 5 ?
Cliquez ici pour télécharger le fichier SVG pour cette bande dessinée