Filmnesia, Part IV (French)
on
February 22, 2013
at
1:40 pm
This is a French translation of our Season 4 comic "Filmnesia, Part IV" and its accompanying commentary, by Samuel. Click on the image for the full-sized version:
Cette planche est inspirée d'une conversation que j'ai eue avec une amie il y a quelques années. Elle venait juste de voir son premier film pornographique et de faire ce commentaire : « ce n'est pas aussi terrible que je l'imaginais ». Je lui ai expliqué qu'elle avait eu de la chance et qu'elle était tombée sur quelque-chose qui correspondait à sa propre notion de l'acceptable. Elle aurait pu tout aussi bien se trouver confrontée à quelque-chose de pire que ce à quoi elle s'attendait.
Ce qui est étrange avec la pornographie, c'est la soudaineté avec laquelle l'excitation peut se muer en dégoût, comme peuvent probablement en témoigner de nombreux touristes ayant visité Bangkok en état d'ébriété. Il n'y a qu'un petit pas de « j'aime ça » à « je ne suis pas sûr… essayons… » puis jusqu'à « BEURK ! » Un peu comme sur ce graphique :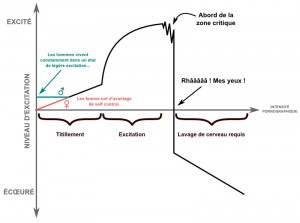 Bien sur, il est très schématique. Pour commencer, il n'y a pas d'étalon* universel qui permette de mesurer un « intensité pornographique » : le plaisir des uns est le tabou des autres. Quant au point « rhâââ », là où les courbes se croisent, il tend à se décaler vers la droite avec le temps et avec l'expérience (dans le cas du héros de notre planche ce point est ramené entièrement vers la gauche). Mais chacun a ses propres limites, et bien qu'il puisse être amusant d'explorer les limites de ses goûts en matière de sexualité il faut rester prudent : il n'existe vraiment aucun moyen pour rendre à un cerveau l'état du neuf.
---
* Si j'ose m'exprimer ainsi (NdT)
Cliquez ici pour télécharger le fichier SVG pour cette bande dessinée