Une Curieuse Opportunité
on
August 11, 2012
at
4:00 pm
This is a French translation of our Season 4 comic "A Curious Opportunity" and its accompanying commentary, by Samuel. Click on the image for the full-sized version: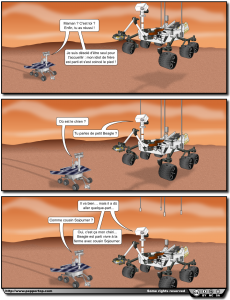 Ces temps derniers, ils semble que nous carburions volontiers aux sujets d'actualité. Mais celui-ci est de loin le plus frais d'entre eux, car il arrive moins de trois heures après l'atterrissage réussi de Curiosity, le rover martien de la NASA.
Que le rover se soit posé avec succès est un incroyable accomplissement : il ne s'agit pas de la voiture radio-commandée sur-dimensionnée des précédentes missions, mais d'une voiture radio-commandée énormément sur-dimensionnée, qui a effectivement la taille d'une véritable voiture1. Un parachute n'étant pas très efficace pour ralentir une telle masse dans l'atmosphère raréfiée de Mars, on a dû :
Le larguer depuis l'orbite dans une capsule
Ralentir la capsule à l'aide de fusées
Déployer un parachute pour le ralentir d'avantage
Éjecter la capsule
Le descendre encore à l'aide d'un « treuil aérien » soutenu par encore plus de fusées
Faire planer l'ensemble pendant que le rover descendait le long de ses câbles
Désarrimer les câbles et envoyer le treuil s'écraser à bonne distance
Gardez cela en tête un instant : la NASA est parvenu à faire descendre un véhicule tout-terrain d'une tonne le long de câbles attachés à une plate-forme soutenue par des fusées, sur une planète totalement différente, et rien ne s'est déroulé de travers. Un très impressionnant travail d'ingénierie2 !
Avec la création d'un si gros rover nous avons commencé à nous imaginer toute une petite famille sur Mars. Même la NASA aime faire poser ses rovers pour des photos de famille :
Alors nous avons décidé de dessiner cette réunion de famille, même si un tel événement a bien peu de chances de se produire dans la réalité. Tout le monde ne pouvait pas réussir, bien sûr, mais comment vous y prendriez-vous pour expliquer à un jeune rover que son animal familier, Beagle, n'est plus de ce monde ?
Félicitation à l'équipe de la NASA en charge du projet Curiosity. Il y a en perspective des années d'exploration et de découvertes de la part de notre nouvel explorateur martien.
---
NdT
1) Environ 900 kilos, soit à peu de choses près la masse d'une Renault Clio.
2) Une vidéo qui aidera à mieux comprendre ce processus qui au premier abord peut sembler exagérément compliqué : http://www.youtube.com/watch?v=P4boyXQuUIw Il aurait peut-être été possible d'effectuer toute la descente sous un très vaste parachute, mais c'était prendre le risque de voir cet engin coûtant des milliards s'emberlificoter dedans au terme d'un voyage de 8 mois et 800 millions de kilomètres. Et tout ce que nous aurions découvert c'est… un plafond de soie sur Mars !
Cliquez ici pour télécharger le fichier SVG pour cette bande dessinée